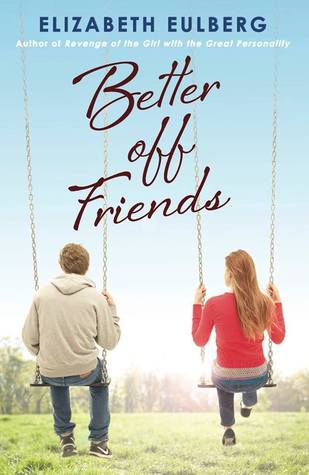 For Macallan and Levi, it was friends at first sight. Everyone says guys and girls can't be just friends, but these two are. They hang out after school, share tons of inside jokes, their families are super close, and Levi even starts dating one of Macallan's friends. They are platonic and happy that way.

Eventually they realize they're best friends — which wouldn't be so bad if they didn't keep getting in each other's way. Guys won't ask Macallan out because they think she's with Levi, and Levi spends too much time joking around with Macallan, and maybe not enough time with his date. They can't help but wonder . . . are they more than friends or are they better off without making it even more complicated?
Description taken from Goodreads.
---
It seems that with every Elizabeth Eulberg book I read, I just seem to like her more and more. From the minute I heard about this book, I couldn't wait to read it and thank you so much to the fabulous people at Scholastic Point and Netgalley for the ARC!
When I first heard about BETTER OFF FRIENDS seemed like a great concept and it was something fresh in a YA world where's it's either the boy next door or the dude you just met a few days ago.
This story does not disappoint.
From the minute I started this story, I loved Levi and Macallan's relationship. I do have to admit that in the beginning I had trouble remembering who was the boy and who was the girl, but really–it surprised me how quickly I got used to the both of them. Their banter is quite frankly hilarious and I adored all the different references to Buggy and Floyd. I'm telling you, if that show were real, I would most definitely be a fan. 

Levi is sweet and cool, while Macallan is tough and understanding–all the while both of them being very relatable. I was glad to see Macallan stand up to bullies as well. There's lots of drama to go around in BETTER OFF FRIENDS, but surprisingly this didn't bother me. I appreciated the ups and downs to seeing all of that–because that really is the way that it goes in friendships. The characters were real to me, and I could myself and my friends in Levi and Macallan's lives.
It hit hard when Levi tore his ACL near the end of the middle of the story, because I've torn my ACL too and, like Levi, it was while doing something I loved. Except instead of football, it was skiing. The experiences Levi goes through is shown really well and I really liked the support network that Levi and Macallan go through. And yes, physical therapy and trading a few months of prime skiing for doctors shoving your knee around and asking if it hurts does suck.
I did feel like BETTER OFF FRIENDS went in circles a little bit with the different relationships that go on in this book and I wish it had been a little bit more condensed because I felt like I went through five contemporary novels instead of one by the time I reached the end, but overall–this story is completely worth it. I also loved the format that this book is told in. I can't wait to see this out in print tomorrow! 4 stars.
(This review will also be up on Goodreads by the release day (February 25, 2014). There's more of it there, but it is a slight spoiler).
pg count for the kindle edition: 288