Sixteen-year-old Jackie Howard is devastated when her parents are killed in a car accident. She has no one to turn to except for her mom's best friend Katherine Walter. Jackie quickly discovers that Katherine is no stranger to being a mom—she's got twelve boys! And every single one is a handful…

Adjusting to life with the Walter boys is not going to be easy, especially when two of them start to show an interest that definitely goes beyond brotherly.
If you watched or read the anime/manga BROTHERS CONFLICT, you'll like this book.
I wasn't really thinking about BROTHERS CONFLICT when I first opened up MY LIFE WITH THE WALTER BOYS. In fact, I had originally thought that this was an MG book (because I confused it with another book). Pretty much the only major differences between this and BC are that 1) just 2 of the brothers are interested in her and not 12, (not counting Wataru, because that would just be messed up) and 2) Ema didn't come to live with the boys because her parents were dead, it was because her mom died and her dad remarried a successful apparel maker, which isn't that far off the point from a fashion designer, which is what Jackie's mom was.
And of course, MY LIFE had much better developed romance than BROTHERS CONFLICT, though Ema and Jackie share the trait of immediately attracting the guy they're into, which doesn't make sense to me. Or the fact that all the brothers look great.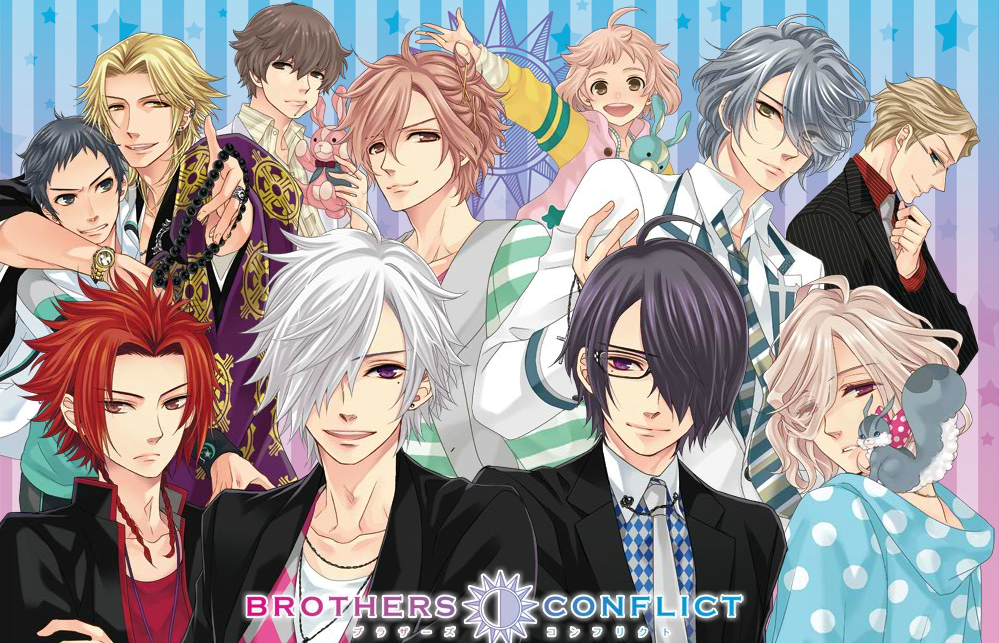 Seriously.
This doesn't just happen. And Zoro's still more awesome…
But enough with the anime references and what I didn't like about this book. Despite it teetering on the edge of instalove and the fact that I felt like Novak should've given the end more time to develop, I actually really did enjoy MY LIFE and I know that things will be fine since this is a series. I've started reading the sequel on Wattpad and I have to say I'm pretty happy so far. Despite the fact that they were a little too pretty, I couldn't help but love learning about the Walter boys. I appreciated the different ways they got to connect with Ema  Jackie and the organized chaos that made up their family.
This book really was a ton of fun and I felt like Novak really captured the right feelings and timings of certain emotions or events that took place. Jackie was extremely relatable and felt real to me, something Ema never really was on both counts. I'm still on the fence with Cole. And while Alex should be a surefire decision, I'm stuck with him as well. He seemed extremely sweet right up until the point where something happened and then he turned into a part-time jerk.
As for all the rest of the boys, I loved their relationships with Jackie. MY LIFE really entertained me and while I'm a little iffy on somethings, I did like the plot and pacing. I hope that MY LIFE AS A WALTER BOY will be just as good and I look forward to seeing more of Cole's POV. While it definitely wasn't what I was looking for when I requested it on Netgalley, I was pleasantly surprised and I'm glad I found this book. Definitely liked it more than BC, which I quit after about four episodes… 3.5 stars.
pg count for the ebook: n/a
Series: My Life With the Walter Boys