Spoiled, Versace-clad Cricket Montgomery has seventeen years of pampering under her belt. So when her father decides to ship her off to a summer camp for disabled teens to help her learn some accountability, Cricket resigns herself to three weeks of handicapped hell.

Her sentence takes a bearable turn as she discovers the humor and likeability of the campers and grows close to fellow counselors. Now, if she can just convince a certain Zac Efron look-alike with amazing blue eyes that she finally realizes there's life after Gucci, this summer could turn out to be the best she's ever had.

Summer on the Short Bus is a very non-P.C., contemporary YA with a lot of attitude, tons of laughs, and a little life lesson along the way.
http://www.youtube.com/watch?v=P05NamM-Sk8
Okay, okay. I'll be serious.
But I like the Vines more… 
I'm going to start out by saying that SUMMER definitely won't appeal to everyone. Cricket is at times snarky, sassy, heartbreaking, heartwarming, irreverent, hilarious and cringe-worthy. Heck, the whole book is like that.
And why do I love SUMMER?
Because it's all of those things.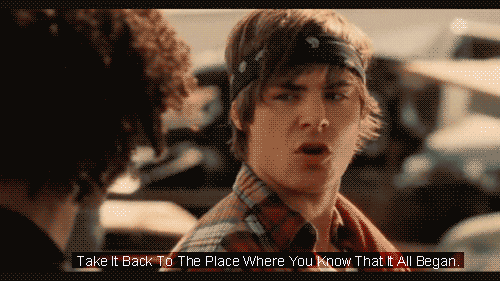 Our first stop on the half-assed tour is the mess hall, aka the needs-to-be condemned building I saw when we first drove in. All meals are eaten here, which means I can add food poisoning to my growing list of fears. 
I've drawn different things about the special needs books I've read that particularly stuck out to me. Sharon M. Draper's OUT OF MY MIND, which made it onto my five star list (basically my favorites list), stuck out to me for all the reasons why I rate a book five stars. It's humor, unique voice, charisma, amazingness–I could go on. Kathryn Erskin's MOCKINGBIRD stuck out to me because of the way it showed Caitlin's struggles. R.J. Palacio's WONDER showed me the point of view of a boy with special needs when I had only heard from girls. It also showed me the different things that I hadn't thought about, and different experiences from Melody's (OUT OF MY MIND).
Finally, I've gotten to see this from the point of view of an everyday person. Well, a spoiled everyday person who demonstrates how most American teens see special needs kids.
One thing that I thought was really great about SUMMER, among all the others, is seeing how much Cricket grew–and the process in which Bethany Crandell used to show her growth as well as the ending. The pace moved along well and as for the plot, I really liked how I could relate to Cricket and how her moves seemed realistic. From the moment she stepped into the camp, she wanted out–but then she met Zac Quinn and everything changes. Suddenly, she doesn't mind staying a few more days since she can't reach her dad anyway. I thought this was a great way to get Cricket to stay and introduce the audience to the love interest.
I thought there were some pretty creatives moves to the plot and I loved the way that SUMMER was never boring for me. There's constant humor to this story and I loved Cricket's voice as a character. Even in the beginning, as she attempts to escape and then reluctantly finds more and more reasons to stay, along with her fights with Quinn, her relationships with the campers and the rest of it all–I was impressed with how Crandell pulled it all off.
"Okay, Claire says, seconds before making a surprisingly swift movement toward me. Her meaty arms wrap around me, and she's squeezing me so tight I'm afraid my insides might break. "I love you, Cricket."
Now I can't breathe at all, and it's got nothing to do with Claire smashing me. It's like my heart has suddenly outgrown my chest.
AHHHHHH. There's so much to like about SUMMER, and it truly made Cricket shine. I had a massive book hangover after I was through, and the feeling was awesome. 4.5 stars. So glad Bethany Crandell made a street team (AND I'M ON IT I THINK YESSSS), because I've got a confession to make to this book.
For all you fangirls out there, SUMMER ON THE SHORT BUS will blow you away.
Quotes were taken from an uncorrected proof, subject to change in the final edition.
pg count for the paperback: 256