Welcome to the first day of #14Debuts, all about great 2014 YA debuts and their amazing authors! Today I'm featuring:
The Girl Who Never Was by Skylar Dorset
Publication Date: June 1st, 2014 Publisher: Sourcebooks Fire

THE GIRL WHO NEVER WAS is the story of Selkie Stewart, who thinks she's a totally normal teenager growing up in Boston. Sure, her father is in an insane asylum, her mother left her on his doorstep—literally—when she was a baby, and she's being raised by two ancient aunts who spend their time hunting gnomes in their Beacon Hill townhouse. But other than that her life is totally normal! She's got an adventurous best friend who's always got her back and an unrequited crush on an older boy named Ben. Just like any other teenager, right?

When Selkie goes in search of the mother she's never known, she gets more than she bargained for. It turns out that her mother is faerie royalty, which would make Selkie a faerie princess—except for the part where her father is an ogre, which makes her only half of anything. Even more confusing, there's a prophecy that Selkie is going to destroy the tyrannical Seelie Court, which is why her mother actually wants to kill her. Selkie has been kept hidden all her life by her adoring aunts, with the help of a Salem wizard named Will. And Ben. Because the boy she thinks she's in love with turns out to be a faerie whose enchantment has kept her alive, but also kept her in the dark about her own life.

Now, with enchantments dissolved and prophecies swinging into action, Selkie finds herself on a series of mad quests to save the people she's always loved and a life she's learning to love. But in a supernatural world of increasingly complex alliances and distressingly complicated deceptions, it's so hard to know who to trust. Does her mother really wish to kill her? Would Will sacrifice her for the sake of the prophecy? And does Ben really love her or is it all an elaborate ruse? In order to survive, Selkie realizes that the key is learning—and accepting—who she really is.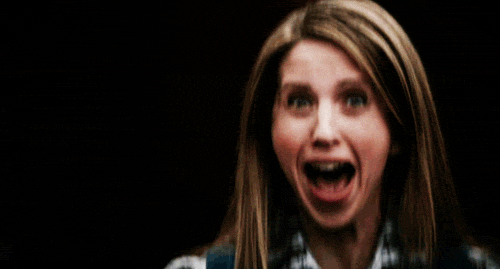 I'm long overdue for a new book about fae and The Girl Who Never Was sounds really promising! And I love the cover!
Guest Post — Skylar Dorset: What Fuels My Love of Fantasy
There are some things that are so much a part of you that they're there with you from the very beginning, ingrained into some part of your DNA or something. My love of fantasy is like that.

When I was four, I asked Santa Claus if he would leave me Rudolph the Red-Nosed Reindeer. Not forever or anything like that, I understood I had to share him, I just wanted to hang out with him.

When I was five, my very favorite thing to do was to sit and flip through this illustrated encyclopedia of myths and legends that we had. I remember especially being fascinated by the legend of the thistle, for some reason. And of the mandrake (you can imagine my delight when they showed up in Harry Potter).

When I was six and first sat in front of a typewriter (it was the olden days) to write a story, it was about talking squirrels.

When I was seven, I thought it might be within the realm of possibility that I would marry Reepicheep from the Narnia books (that's if things didn't work out between me and Justin the rat from "Mrs. Frisby and the Rats of NIMH").

I was just never a child who wanted to live in the real world. I always thought there was something more interesting out there that I was meant for, some magical world where animals talk and plants scream and the stories you tell are all true. So my love of fantasy was always a part of me.

And it's precisely because I have just never gotten over the idea of there being MORE. The things that you can imagine, they can be TRUE. Maybe only in your head, but if you lock the stuff in your head into words that you put on paper, then you can make them be true for longer, more permanently, for more people. You can open up your most fun ideas for all to see and say, "Wouldn't it be AWESOME if Boston was founded by wizards and ogres and goblins and gnomes? Come and play in this world with me."

I love Boston, everything about it. But I undeniably think Boston would be more fun if the reason the subway breaks down all the time really is because of goblins. C'mon, isn't that infinitely more interesting than the generic announcements of track switching issues? GOBLINS, YOU GUYS. Makes that traffic jam so much more interesting!

Sometimes you get stuck in a rut, a routine, a day-after-day, and you know what breaks you out of it? Thinking of goblins crossing your path, of faeries flirting with you, of rats that can tell you stories and enchantments that can change your world. You never know what's coming next. ANYTHING could be coming next. And that's what fuels my love of fantasy: I want ANYTHING to be around the bend, both in my reading and in my writing. It keeps life fun.
Connect with Skylar: 
Find The Girl Who Never Was:
≈
Skylar's first story was a tale of romantic intrigue involving two feuding factions of squirrels. Think "Romeo & Juliet" but with bushy tails and added espionage. She was seven.
Since that time, Skylar's head has been filled with lots of characters and lots of drama. She is delighted to be able to share some of it with all of you now, because, honestly, it was getting pretty loud and crowded in there.
Skylar is a born-and-bred New Englander, which is why Boston was a natural setting for her debut novel, THE GIRL WHO NEVER WAS. Skylar shares her home with a cardboard cutout of the Tenth Doctor, lots of Mardi Gras beads from the time she spent living in New Orleans, and a harp she's supposed to be teaching herself to play. She'd like to get a dog.