Being Astrid Krieger is absolutely all it's cracked up to be.

She lives in a rocket ship in the backyard of her parents' estate.

She was kicked out of the elite Bristol Academy and she's intent on her own special kind of revenge to whomever betrayed her.

She only loves her grandfather, an incredibly rich politician who makes his money building nuclear warheads.

It's all good until…

"We think you should go to the public school," Dad said.
This was just a horrible, mean thing to say. Just hearing the words "public school" out loud made my mouth taste like urine (which, not coincidentally, is exactly how the public school smells).

Will Astrid finally meet her match in the form of public school? Will she find out who betrayed her and got her expelled from Bristol? Is Noah, the sweet and awkward boy she just met, hiding something?
Description taken from Goodreads.
So the first thing you can probably deter from the blurb is that Astrid is a brat. She's a genuine witch who doesn't change much throughout the course of the story–which I did feel badly about because I wanted to see her grow more (isn't that the whole point of stories like these?)–but she's hilarious, which is the upside to it all and also something I can't overlook.
There is so much to this story that made me laugh. It's actually quite frustrating, because I wanted to hate Astrid so much. She's irritating, mean, selfish and lives the whole book with the mentality that she's better than everyone else.
And of course she's rich too.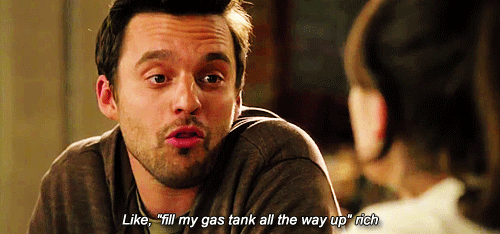 See, the thing is, I figure public and private high school can go one of two ways for anyone, and this mentality applies to most things. It can either suck, or suck less. Things like the scale of how much less suck there is doesn't really matter. It's really a matter of perspective. I wasn't quite sure how things would go for Astrid, because how much high school sucks for her didn't appear to be a popularity thing or an academic thing or a musical/elective thing. If anything, the humiliation of having to go to public school was the worst. That, and being surrounded by people she can't control. Oh, the horror.
If you're easily offended, this book is not for you. Let me reiterate that, because this book is worth it if you're going after a good laugh, a fun story and imperfect but real characters.
All in all, this was an amusing, hilarious story that had decent characters and a decent storyline. I would've liked to see a lot more emotion and growth in the characters and an evolution throughout the story, but I did like where Astrid and friends ended up and while I felt like I should've hated Astrid, I didn't. A solid 3.5 stars.
pg count for the hardback: 336