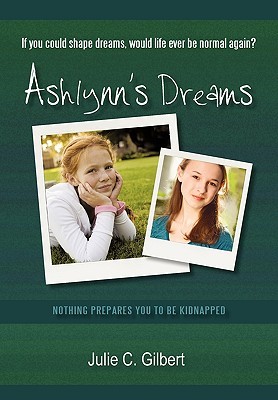 Before she was kidnapped, Jillian Marie Antel Blairington was just an average bright, brave, headstrong child. She was excited for life in a new house with her Momma and new Daddy. Afterward, she's all that … and so much more. Held in a scientific facility, Jillian discovers her past-a family she never knew and a power she doesn't understand. With her ability now activated, she can enter and even shape a person's dreams. Jillian's been kidnapped, and her Gift has been triggered, so she can locate and save Benjamin Connelly, a brother she never even knew she had. She'd better master this strange ability quickly, though, because her life isn't the only one at stake. Her babysitter, Danielle Matheson, is being held as a hostage to ensure Jillian's full cooperation. Slowly, Jillian begins to learn more about her captor and the other genetically altered children held at the facility.

Join Jillian as she tries to survive the training being forced upon her, find her unknown brother, escape with Danielle, and work her way back to a normal life once more.
Description taken from Goodreads. 
---
This book had a fun concept and I enjoyed several parts of it, but between the journal format and the way this book is written, it was extremely hard to understand, enjoy and fully appreciate.
Normally, I like accents in books. I feel like it makes what the characters are saying, where they're from and what they're doing more authentic. Good examples of accents that sometimes irritate people but I liked are from Patrick Ness's THE KNIFE OF NEVER LETTING GO (Chaos Walking series), Paolo Bacigalupi's SHIP BREAKER or even–less frequently–Frances Hodgson Burnett's THE SECRET GARDEN. The main reason why I found myself not enjoying this story to the fullest extent was how the book is narrated, which is mostly in the eyes of Ashlynn. Some of the POV (point of view) switches up, but it mostly stays in the eyes of Ashlynn. I wished that it wasn't written the way it was with her accent and the way that the story was hard to read.
As for plot and premise, I did like the idea of the story. I think that sometimes the story went off on unnecessary tangents, but other than that I liked the way that Ashlynn found out about her powers and began to use them. It was also cool to see how the book was portrayed and how the premise came to define the story. I wished that this book was a little bit more character-oriented, but I did like how the plot was executed.
Then on to characters. As hard as I tried, I had more of a love/hate relationship with Ashlynn than anything else. I had really hoped that she could come to grow more as a character and she could formulate real, deep and meaningful relationships with other people, but I felt like I was looking in from the outside while I was reading ASHLYNN'S DREAMS.
Overall, I would rate this book 2 stars. It was an okay read, but I didn't fully enjoy anything about it and I had hoped to see a lot more. There were parts to it that were entertaining, but it wasn't enough to save the entire story.
If you're looking for a book that's like this that's a little better executed, I would recommend James Patterson's Maximum Ride series or Madelyn Rosenberg and Mary Crockett's awesome 2014 debut, Dream Boy.
pg count for the paperback: 216