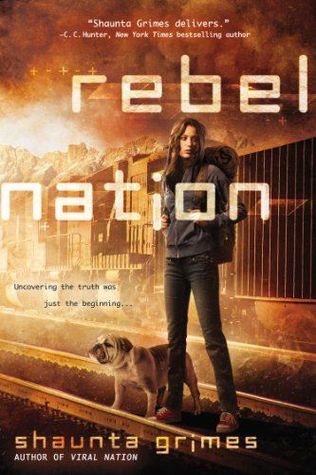 Clover Donovan didn't set out to start a revolution—quiet, autistic, and brilliant, she's always followed the rules. But that was before they forced her into service for the Time Mariners. Before they condemned her brother to death, compelling him to flee the city to survive. Before she discovered terrifying secrets about The Company.

Clover and the Freaks, her ragtag resistance group, are doing their best to spread the rebellion and stay under The Company's radar. But when their hideout is discovered, they are forced, once again, to run. Only this time, The Company has special plans for Clover, plans that could risk her life and stop the uprising in its tracks…
Description taken from Goodreads. I received an advance copy of this book via the publisher in exchange for an honest review. 
---
I was a fan of VIRAL NATION for a few specific reasons, namely how unique it was, the adventure elements and the strong characters. I expected the same from REBEL NATION.
One of the things I loved the most, that really makes this series stand out, was the fact that Clover has autism. She's brilliant, and combined with her brother and guardian West, the two come together perfectly as the main characters of the story. The world that Grimes is able to create and weave together with the complexity of her characters was awesome to see, and it made for a throughly enjoyable story.
If anything was lacking, the action themes and the plot at times feels slow. The adventure and storyline elements are well-done and thought out, but for me the story just doesn't build very quickly. That's not a bad thing, but there are certain times where I have to skim slow parts.
What really was great for me in this story was the relationships in RBEEL NATION. Clover has shown time and time again that she won't be defined by her autism, and with every time she grows as a character alongside the people around her, I was cheering for her. I think that with stories like REBEL NATION and VIRAL NATION, it's even more critical for the author to showcase how the main characters make and define their relationships with other people, and Shaunta Grimes has done that perfectly.
Overall, while this book was a little slow for me, I would definitely recommend it and the book that comes before it in the VIRAL NATION series. The characters are awesome, premise is unique and well-executed and the books make for an exciting ride that will keep the reader entertained until the very end. Would definitely recommend it. 4 stars.
pg count for the paperback: 320
Series: Viral Nation #2