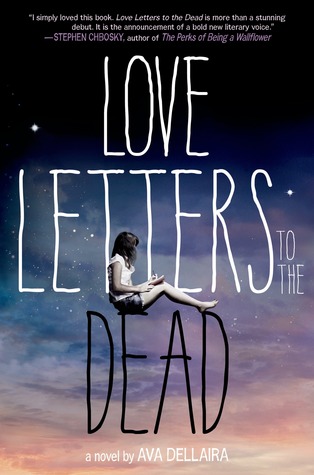 It begins as an assignment for English class: Write a letter to a dead person.

Laurel chooses Kurt Cobain because her sister, May, loved him. And he died young, just like May. Soon, Laurel has a notebook full of letters to the dead—to people like Janis Joplin, Heath Ledger, Amelia Earhart, and Amy Winehouse—though she never gives a single one of them to her teacher. She writes about starting high school, navigating the choppy waters of new friendships, learning to live with her splintering family, falling in love for the first time, and, most important, trying to grieve for May. But how do you mourn for someone you haven't forgiven?

It's not until Laurel has written the truth about what happened to herself that she can finally accept what happened to May. And only when Laurel has begun to see her sister as the person she was—lovely and amazing and deeply flawed—can she truly start to discover her own path.
Description taken from Goodreads.
---
I've read many books that are narrated by letters, the first of which being DEAR MR. HENSHAW by Beverly Cleary. Still, until reading LOVE LETTERS TO THE DEAD, I hadn't read a narrated-by-letters type of book that didn't have the same basic themes and framework. LOVE LETTERS TO THE DEAD has all the basics down, but it also goes much further than that. It was an extremely unique type of story that was entertaining and much more than I had expected in that aspect.
LOVE LETTERS TO THE DEAD is extremely readable. It's not written too simply or too depressing that it wears on the reader, but instead it comes together as simply the story of a girl who had something bad happen to her and how she comes to move past it. This may sound like just another YA story, but with the way that LOVE LETTERS is executed as well as how the girl's past is not what defines her, but rather how she's been affected by it, was what really stuck out to me in the writing of this book.
LOVE LETTERS starts off slowly. It's not a book that goes right into it and that itself was a little annoying about this story. It's also very character-driven, which I really respect in a book. I think it goes along with the way that Laurel is written, that she's not just her past. There's so many issues and elements that come into play over the course of LOVE LETTERS, and I think that the book and the different moves the characters make as they grow and the plot reflects that. Dellaira does a great job of not heaping too many things at a time on the reader, but this still is a deep book and not something I would recommend for someone who just wants a lighthearted, somewhat bittersweet read.
While I did like the characters in LOVE LETTERS because of how well-developed I feel that they are, I didn't love a lot of their choices and I had a love/hate relationship with Laurel during this time. She makes a lot of questionable moves for her new friends, and that really annoyed me, but I felt in the end that it was somewhat necessary. However, I don't think all people will like/accept that–and by no means would I judge them for it, because I really had no respect for Laurel during certain parts of this book.
There are so many beautiful elements to this book, the concepts, the way LOVE LETTERS is written, the plot, the characters, it all comes together to make a lot of emotionally-hitting scenes. The one thing that takes away from the emotional element to this story is the predictability that comes in different waves over the course of the story. It doesn't take away from the plot too much, but it is an issue that I didn't love but was willing to let slide in several aspects. I grew to really like the letter format for this story. Another heavy read that is a lot like this book that I enjoyed was The Rules of Survival by Nancy Werlin, and if you've read and enjoyed this book than I think you'll enjoy that. As for those of you who haven't read this book yet, it definitely will not be for everyone–but I loved it and would recommend it to people who like or will tolerate the letter format and are looking for a deep read. 4.3 stars.
pg count for the hardback: 327