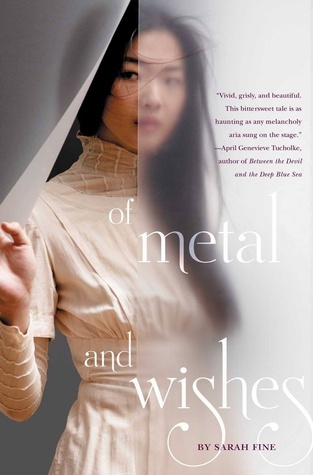 There are whispers of a ghost in the slaughterhouse where sixteen-year-old Wen assists her father in his medical clinic—a ghost who grants wishes to those who need them most. When one of the Noor, men hired as cheap factory labor, humiliates Wen, she makes an impulsive wish of her own, and the Ghost grants it. Brutally.

Guilt-ridden, Wen befriends the Noor, including their outspoken leader, a young man named Melik. At the same time, she is lured by the mystery of the Ghost and learns he has been watching her … for a very long time.

As deadly accidents fuel tensions within the factory, Wen must confront her growing feelings for Melik, who is enraged at the sadistic factory bosses and the prejudice faced by his people at the hand of Wen's, and her need to appease the Ghost, who is determined to protect her against any threat—real or imagined. She must decide whom she can trust, because as her heart is torn, the factory is exploding around her … and she might go down with it.
Description taken from Goodreads.
---
I didn't even know this was a retelling of the Phantom of the Opera until I was about halfway through the book, but that said–I began to see more and more how well this book is written as a retelling. It doesn't fell dated or predictable, and the characters (which all really shined in this story) all come out with Sarah Fine's own personal twist to them.
I was very impressed with the backstory to the Ghost and the way that Fine developed their character so that even though he is pretty creepy in the beginning, I began to feel bad for him. The motivations, romance and world-building elements to OF METAL AND WISHES are extremely well-written.
There are many great things about this book, the best being the characters. The relationships were awesome to see grow as well, mainly the romance. Normally I enjoyed well written friendships better than well-written romances, but OF METAL AND WISHES was an exception to this rule. The romance was amazing because of how it's placed between two cultures with prejudice against one another. Melik defends Wen and Wen defends the Noor and the two of them grow closer together in a way that isn't rushed or annoying, but they also have to face their own prejudices against each other.
Overall, I loved this book. The Asian influence was cool to see, and I greatly enjoyed the steampunk traits as well. I thought that at times the retelling aspect of it made things a little predictable, but Fine's fresh twist on the plot, characters and her prose really put this storyline in a new light for me. Fine has announced that she will be releasing a sequel to this story, and I'm looking forward to it. The ending didn't really tie everything up for me. 3.8 stars.
pg count for the hardback: 320
Series: Of Metal and Wishes