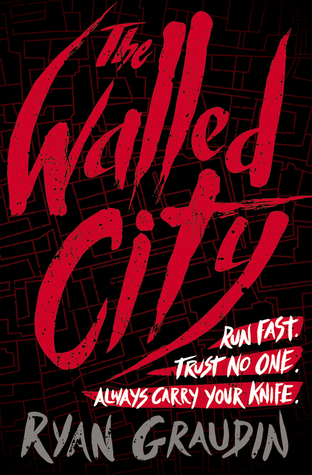 There are three rules in the Walled City: Run fast. Trust no one. Always carry your knife. Right now, my life depends completely on the first. Run, run, run.

Jin, Mei Yee, and Dai all live in the Walled City, a lawless labyrinth run by crime lords and overrun by street gangs. Teens there run drugs or work in brothels—or, like Jin, hide under the radar. But when Dai offers Jin a chance to find her lost sister, Mei Yee, she begins a breathtaking race against the clock to escape the Walled City itself.
Description taken from Goodreads. I received an advance copy of this book via the publisher in exchange for an honest review. These opinions are my own.
---
From the very beginning, it's apparent that THE WALLED CITY is extremely rich in description and character. The world-building is stellar, even though sometimes the book doesn't read like it's actually set in that world. Everything and everyone is so clearly visible in my mind that this portrayal of the actual Kowloon Walled City that by the end of this story, I was completely enraptured and horrified by it all.
One of the disappointing things about this book for me is that over the course of time, that beautiful world-building writing style diminishes a little bit and description becomes minimal at times. However, when it does come back I really appreciated Graudin's writing style in a way that I didn't at all in her other stories and I thought she did an amazing job of portraying the Walled City.
And then there's the characters. This book is split between three different perspectives–Jin, Mei Yee and Dai. The complete and utter lack of hope that is scattered in the minds of all the characters in at least one part of the book was nothing short of beautifully written and haunting. I loved the narrative to THE WALLED CITY and how the three perspectives tied so closely together, even when the characters were apart. I also thought that many of the moves that were made throughout the book were realistic and clever.
If I had to name a favorite character, it would probably be Mei Yee. Yes, I did love Jin's strong personality and her desire to save her sister. I completely loved Dai and the way the romance in this story built up slowly and never overtook the need to survive. I thought his first interactions with Jin and the way that their relationship grows as well was great, but overall Mei Yee took the cake. I loved the way that she was written and truthfully, I thought that some of Graudin's best moments came out of her through Mei Yee's perspective and the desperate situation she was in.
There was so much to THE WALLED CITY that I loved, especially the ending. It's definitely very hardcore and while it could constitute in some aspects as urban fantasy or some kind of the-terrible-future kind of story, it's not technically dystopian or even sci-fi. If you're looking for an equally haunting story that strikes much closer to home, I would recommend The Rules of Survival by Nancy Werlin. Otherwise, I would definitely recommend this book.
4 stars.
pg count for the hardback: 432