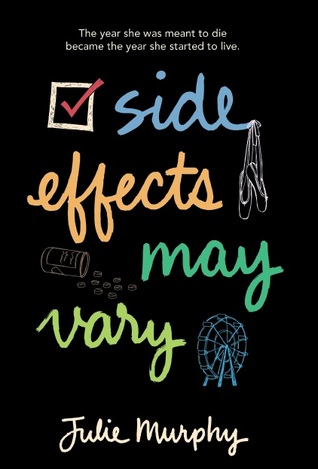 What if you'd been living your life as if you were dying—only to find out that you had your whole future ahead of you?

When sixteen-year-old Alice is diagnosed with leukemia, her prognosis is grim. To maximize the time she does have, she vows to spend her final months righting wrongs—however she sees fit. She convinces her friend Harvey, who she knows has always had feelings for her, to help her with a crazy bucket list that's as much about revenge (humiliating her ex-boyfriend and getting back at her archnemesis) as it is about hope (doing something unexpectedly kind for a stranger). But just when Alice's scores are settled, she goes into remission.

Now Alice is forced to face the consequences of all that she's said and done, as well as her true feelings for Harvey. But has she caused irreparable damage to the people around her—and to the one person who matters most?

Julie Murphy's Side Effects May Vary is a fearless and moving tour de force about love, life, and facing your own mortality.
Description taken from Goodreads.
---
SIDE EFFECTS MAY VARY didn't have too unique of a premise. It combined sickness and bucket lists, two recent trends; and it was and wasn't all I had expected it to be.
For one thing, I felt before, during and after that this book would've been more powerful and hard-hitting if the unfolding of it hadn't been split between then and now.
The POV was also split between Harvey, the love interest of this story and Alice's best friend, and Alice herself. This did work on many occasions because I enjoyed seeing into both Alice and Harvey's minds, but the problem was that the two POVs felt too similar. I hated the way that Harvey and Alice both constantly went off on tangents, explaining things and going on about matters that weren't really vital to the story.
The thing is, a lot of people will hate this story simply for the main character. Alice. And she doesn't grow, doesn't blossom, doesn't do any of that. She's incredibly selfish and rude at times, and when she starts up on her bucket list she pretty much sets out to get revenge on anyone who has ever done her wrong. I can't say that I agree with her motives and I definitely don't agree with a lot of the things she ends up doing on the basis of petty things like revenge, regret and grudges.
But there's the fact that a personality like Alice's and the actions she ends up undertaking are not entirely out of the realm of possibility. The bitterness from people who have done so many bad things to her and how she would react and how she would feel after being diagnosed are entirely reasonable, and because of that I was able to understand where Alice was coming from. I did think it was extremely selfish of her to bring Harvey into the picture–she should pay for the things she does by herself–but she did need someone who wasn't about to die.
There were so many flawed characters in this story, but none so much so as Alice. If you want to read about entirely flawed, messed-up characters, this is the book for you. If you're looking for a book like this but not so hateful at times, you're better off going in the direction of IF I STAY by Gayle Forman, THE FAULT IN OUR STARS by John Green or THE BEGINNING OF EVERYTHING by Robyn Schneider. For a fun, fluffier summer read, I would go with THE ART OF LAINEY or SUMMER ON THE SHORT BUS by Bethany Crandell–both 2014 debuts as well that are extremely well written.
As much as I wanted to hate Alice, I couldn't in a way. As a writer, I admire her. She's so completely hateful, flawed and believable that I can't help but be in awe of the way she's written. She can use people and not appear to feel any guilt over it, but at the same time she has plenty of self-conflict and self-hate. In terms of plot and overall execution, this story was entertaining enough–but the heavy narrative bogged down the entire story. 3 stars.
pg count for the hardback: 330