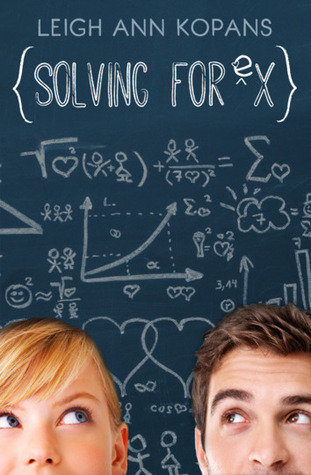 "Ashley Price doesn't have much in life after being bullied so hard she had to leave her old school to live with her aunt and uncle in Pittsburgh. But the camera she borrowed from her best friend and secret crush Brendan, and her off the charts math abilities, make things a lot more bearable. Plus, since Brendan is the captain, making the school Mathletes team should be easy.

But when gorgeous new girl Sofia rolls in and steals Brendan, Ashley's place on the team, and her fragile foothold on the Mansfield Park Prep social totem pole, it's on. Sofia is everything Ashley left her old school to escape. The only thing Ashley didn't count on is Sofia's sexy twin brother Vincent.

Vincent is not only the hottest boy in school, he's charming, sweet, and he's got his eye on Ashley. He's also not taking no for an answer. There's no real reason Ashley shouldn't like Vincent, but with the
battle lines being drawn between her and Sofia, Ashley's not sure which side he's on. Or which side she wants him to be on.

She does know Sofia is trouble with a capital T, and she's determined to make Brendan see it."
Description taken from Goodreads.
---
Hugs to this book.
There are SO many things I loved about this book. It reminded me a lot of The Art of Lainey by Paula Stokes and it was AMAZING. I came to really care about the characters even though they are flawed–no, especially because they're flawed.
Ashley was awesome, but I did have a few issues with her. I really disliked the way that, during the book, the characters would realize something and then automatically turn around and forget about it for awhile. Almost as if they were little kids, learned something and grew up, and then automatically just glitched back to being kids again. It was extremely irritating, and I didn't enjoy the way that Ashley couldn't just chill and look at the situation in a different light when she really had no reason to be that upset.
There were a lot of things I liked about her though. I really enjoyed how smart she was, and how she figured out that something was seriously wrong with Vincent and Sofia. My heart hurt for her with her bullying, and I understood all the aftereffects that she talked about. My heart also hurt for her during the course of the story for Brendan (even though she does kiss Vincent. Shocker.) I appreciated how kind she was, and her genuine love for school, Mathletes and photography. She appreciates the things other people do for her, and she takes the time to listen to people. I felt like she was very real in those aspects.
One side note that I couldn't brush off though was yes, she did get mad at people when they did really bad things. **cough** VINCENT **cough**, but she doesn't stay mad, which is a good thing when you look at it from the outside but she doesn't take the time to think about the situation again what kind of "not staying mad" she should be. There are some things that happen in the book that are a serious NO and she forgives it pretty easily.
Brendan surprised me. I don't care for many a heroine/hero in books, and I didn't think that I would like Brendan. But I did. He's kind, fair and cares about people. An overall good guy. He gets and stays mad for the right reasons even though he does forgive, he truly cares about his passions and his friends and he's not a jerk about it. I appreciated the issues he was going through, and how he dealt with them. I thought that Kopans did a great job of showing off his character during those times.
Another thing that surprised me was the math notes. I expected them to bore me and be a break in the pace which I usually hate, but it was refreshing in SOLVING FOR EX. The notes were funny and something I looked forward to over the course of the story.
I do have to admit that overall, the plot is a little cliche, which is annoying and nice at the same time. It'll definitely appeal to girls who like contemporary romance and won't mind, but it was something that did bother me after I read the story. The pace is steady, not exactly slow or fast and not something that was on my mind during the course of the book which is a good thing.
I loved how real the characters in this book were and even though I felt like some things were missing or some things didn't get tied up, I'm really excited to start the companion book, FIRST WORLD PROBLEMS, which is about Sofia. I do hope to see a Vincent story one day and get his side of everything, but we'll see.
I don't get the title of this story. Maybe I'm just slow or I missed something, but Ashley doesn't have an ex. She is eternally crushing on Brendan, and the idea that she slept with the captain of the lacrosse team while he was dating the head of the cheer team was completely a rumor/gossip.
3.8 stars.
pg count for the paperback: 300