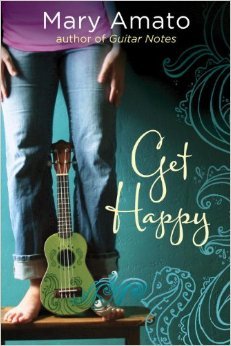 In this poignant, realistic, contemporary YA by a state master list star, perfect for fans of Sarah Dessen and Gayle Forman, a young songwriter builds a substitute family with her friends in place of the broken family she grew up with.

A hip high school girl who loves music, writes songs, and is desperate for a ukelele, learns to her shock that her father did not abandon her years ago and has been trying to keep in touch. She begins to investigate him, only to discover that he has a new life with a new family, including the perfect stepdaughter, a girl who Minerva despises.
Description taken from Goodreads.
---
GET HAPPY was a very interesting book, to say the least.
I can't say, however, that it was especially unique or stood out in any way. In fact, the voice of her main character, Minvera, is very much like that of the main character (Lyla) from Amato's GUITAR NOTES. I guess the thing about GET HAPPY that really got to me was that nothing really happens over the course of this book. There was nothing that especially stood out. There were a few things that I truly disliked, and a few things that I thought had a lot of potential, but all in all this story doesn't really sparkle at all.
One of the things I disliked about Minerva is how petty and childish she is. She doesn't take the time to consider other people, and she's quick to pass judgement on others. She hates people for no reason, or when she does she does it for reasons such as someone being "too perfect". I was really disappointed by the characters in GET HAPPY because of the fact that I loved the characters so much in GUITAR NOTES. Minerva ends up seeming like a much younger person than she is and her naive/melodramatic nature doesn't help that.
All in all, I thought this book just didn't have enough basis to feel at all real. I thought that the characters did have potential, yes, and I did think the plot had potential, but none of that potential really amounted to anything. The ending of it all fell short as well due to the fact that there were several things that ended up not being resolved. Not only was it anticlimactic, I had thought there would be much more to it than there ended up being.
I think that if Minerva had grown even the slightest bit during the course of this story, I would've had a better impression of her, but she didn't.
I thought that the music lyrics were okay–they're actually something I look forward to in most stories, but they were something that didn't work here. GET HAPPY is a short story to begin with, but even the 256 page figure is deceptive. All in all, this book was just wasn't enough for me. I wanted something more, and GET HAPPY wasn't it. If you want to read a book like this, I would suggest reading GUITAR NOTES instead. 1.5 stars.
pg count for the hardback: 256