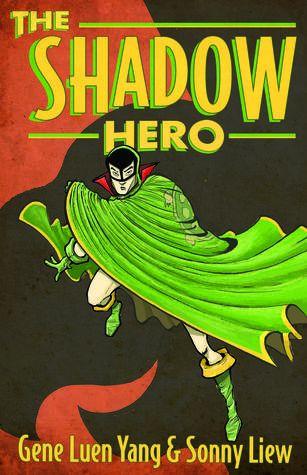 In the comics boom of the 1940s, a legend was born: the Green Turtle. He solved crimes and fought injustice just like the other comics characters. But this mysterious masked crusader was hiding something more than your run-of-the-mill secret identity… The Green Turtle was the first Asian American super hero.

The comic had a short run before lapsing into obscurity, but the acclaimed author of "American Born Chinese," Gene Luen Yang, has finally revived this character in "Shadow Hero," a new graphic novel that creates an origin story for the Green Turtle.

With artwork by Sonny Liew, this gorgeous, funny comics adventure for teens is a new spin on the long, rich tradition of American comics lore.
Description taken from Goodreads.
---
THE SHADOW HERO.
When I first heard about this book, I wasn't that interested in it honestly. I was disappointed, actually. I had expected something more along the lines of Gene Luen Yang's AVATAR or AMERICAN BORN CHINESE. I LOVED both of these titles, and that was actually the only reason why I ended up reading THE SHADOW HERO.
THE SHADOW HERO is worth it.
I loved the journey of this story, and just how similar and different it is from Yang's other books. There's the same concepts of trials, strengths, weaknesses, growth and humor. Yang also employs and embraces the stereotypes, history and character of Asian culture, which is great to see. There were so many things I loved about this story, and I think the major thing that stands out here is just how different of a story THE SHADOW HERO is.
There are many superhero stories out there, all with their own struggles, but Yang manages to tell the story of someone who never wanted to become a hero, but was born one anyway. The "Green Turtle" as he becomes known has a very rough backstory, and as the book went on I began to feel for him as a character. He manages to become something that I didn't see coming, and that was really surprising and entertaining for me.
I also loved the artwork and illustrations to THE SHADOW HERO. Mad props to Sonny Liew for that.
Overall, THE SHADOW HERO is an awesome comic series that I'm really looking forward to continuing to read. It stands out from the crowd just like all of Yang's other books, and a refreshing take on superheroes that many people do not get these days with Marvel and DC (even though I love XMen and the Avengers as much as the next guy). This book is definitely well worth a read, and will appeal to a variety of genres (probably 12+). 4 stars.
pg count for the paperback: 169
Series: The Shadow Hero