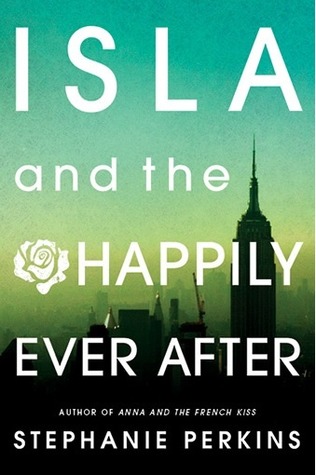 Love ignites in the City That Never Sleeps, but can it last?

Hopeless romantic Isla has had a crush on introspective cartoonist Josh since their first year at the School of America in Paris. And after a chance encounter in Manhattan over the summer, romance might be closer than Isla imagined. But as they begin their senior year back in France, Isla and Josh are forced to confront the challenges every young couple must face, including family drama, uncertainty about their college futures, and the very real possibility of being apart.

Featuring cameos from fan-favorites Anna, Étienne, Lola, and Cricket, this sweet and sexy story of true love—set against the stunning backdrops of New York City, Paris, and Barcelona—is a swoonworthy conclusion to Stephanie Perkins's beloved series.
Description taken from Goodreads.
---
How… do I even begin to review this book?
I guess I should've expected this. It's a Stephanie Perkins book. But I didn't. By far, ISLA AND THE HAPPILY EVER AFTER is probably my favorite out of her ANNA AND THE FRENCH KISS series. There's just so much to love about this book, from the writing to the story to the characters and the COVER. Oh ISLA's cover.
And it's like island without the nd, not Iz-la.
I didn't even want to read this book. For a long time, I didn't read Anna and the French Kiss, but I decided to after all the rave reviews–and it was all worth it.
From the very beginning, ISLA opens up beautifully. It tells the tale of unrequited love in the beginning, and finally getting to know someone that you've known for a long, long time. I loved the prose in this book–in all of Stephanie's books, but especially ISlA.
I think out of all three books in this series, the average reader can relate the most to Isla out of Isla, Anna and Lola. She's sweet and shy and lovable from the very beginning of the story, and her getting to know Josh–and not just her relationship with him, was one of the true highlights of this book.
Description and imagery were also awesome parts to the writing. There was so much that I could just see, and that was amazing after reading a string of disappointing books writing-wise.
His style is almost whimsical. It's melancholy and beautiful, completely his own. The lines are careful. They reveal that he pays attention. People don't think he does, because he daydreams and skips class and neglects his homework, but when I see his drawings, I know they're wrong.
Plot-wise, this is a lot like Stephanie's other books. It's about the building of the relationship, the trials of the relationship and the eventual loveeeeeee part of the relationship. I felt like ISLA was so different from the first two books though, and I think that was because of the characters.
Even though I thought that I could really see a lot of LOLA's plotline in ISLA, Lola and Isla are almost entirely different people. Lola is bold and loud and crazy and her own special brand of person, while Isla is quiet and shy and small. Unnoticed, really. Over the course of the story, Isla changes and grows to the point where I can definitely still see her in her character, but her character has come to realize things about herself (and life) that has made her grow. I loved to see this in Isla, and how Josh and Isla made each other better.
Speaking of characters, they're all AMAZING. It's so fun to see cameos of past characters in books like these. It was something I loved in Sarah Dessen's books, and it's something I love in these books. It was amazing to see the characters come back, but I also really enjoyed reading about new characters. The way that Stephanie so seamlessly pulls together words and traits and ideas into a person is beautiful, and I fell in love with her characters all over again.
I loved pretty much everything about this book. It is a little predictable, yes. Contemporary romance can edge along the line of predictable a lot, but at the same time ISLA was completely unpredictable. The events that occurred and the hilarity that ensued in much of the book was awesome to read about, and made for a really entertaining ride. I had so much fun with this story, and I'm sad to see this is the conclusion of this series–but I will definitely be picking up Stephanie Perkin's later books in the future. As for now, if you haven't, READ THIS BOOK. 4.5 stars.
pg count for the hardback: 339
Series: Anna and the French Kiss #3