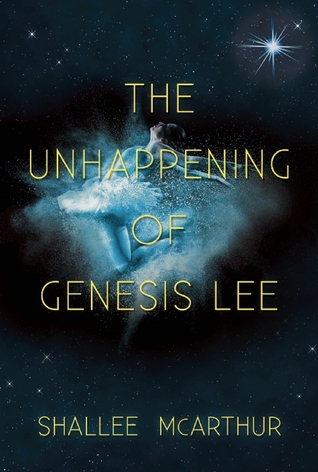 Seventeen-year-old Genesis Lee has never forgotten anything. As one of the Mementi—a small group of genetically-enhanced humans—Gena remembers everything with the help of her Link bracelets, which preserve memories perfectly. But Links can be stolen, and six people have already lost their lives to a memory thief, including Gena's best friend.

Anyone could be next. Which is why Gena is less than pleased to meet a strange but charming boy named Kalan who claims that they've not only met, but that Gena knows who the thief is.

The problem is, Gena doesn't remember Kalan, she doesn't remember seeing the thief, and she doesn't know why she's forgetting things— or how much else she might forget. As growing tensions between Mementi and ordinary humans drive the city of Havendale into chaos, Gena and Kalan team up to search for the thief. And as Gena loses more memories, they realize they have to solve the mystery fast.

Because Gena's life is unhappening around her.
Description taken from Goodreads.
---
PRAISE FOR THE UNHAPPENING OF GENESIS LEE
"…It's the sensitive handling of emotional details and the trauma of too much connection that make this a story of interest. The reactions to memory losses are painful and poignant…For anyone fascinated with thoughts of omniscience and total social connection—and who isn't?—McArthur's debut suggests fascinating and chilling possibilities." –Kirkus Review
"Equal parts dark and delightful, McArthur's stunning debut takes an awesome SF premise and follows it deep into the maze of the human mind. I loved it so much I was jealous." –Dan Wells, author of the NYT bestselling PARTIALS Sequence
"A thrilling read from beginning to end, this stunning debut had me wishing I could record my memories to keep them safe! Just like Gena, I was desperate to discover the thief while at the same time hoping the story would never end." –Elana Johnson, author of the POSSESSION trilogy
I was able to read an advanced copy of THE UNHAPPENING OF GENESIS LEE and it is AMAZING. I actually did a Once Upon a Gif post about it early in September. Now, I'm back on the topic of this great debut and Shallee McArthur herself in this dream cast post!
~~~~~~~~~~~~~~~~~~~~~~~~~~~~~~~~~~~~~~~~~~~~~~~~~~~
The Dream Cast of The Unhappening of Genesis Lee
I'm pretty sure nearly every writer in the world picks out exactly who they'd like to play their characters in a movie. It's never really spot-on, of course, but I found some pretty great folks that get really close to the image in my head of who would play the characters in The Unhappening of Genesis Lee!
First up, of course, is my main character, Gena! She has a pet snake. She does ballet, jazz, and lyrical dance. She's an astronomy whiz. She struggles with anxiety. She's a lot braver than she thinks she is. You'd like her. In my dream cast, I can see her played by Janel Parrish, just with darker hair.
Next up is Cora, Gena's best friend. She's a dancer and choreographer. She writes music. She snaps at annoying people that she's going to punch them in the face. Gena describes her as "funny and crazy and as needy as a kitten. And flashy…" Basically, she's awesome. Dream cast-wise, I see her as Jasmine Villegas.
And then there's Kalan. He's a nerd who collects bouncy balls. He's the son of a traveling preacher. He always says the wrong things at the wrong times. He's a little overprotective, and determined to find the memory thief. I'm in love with him just a little– and so is Gena. Jeremy Sumpter totally fits the bill (as long as he gets brown contacts).
Ren, Gena's sister, is rebellious and brilliant. She's passionate about helping keep her people's memories safe. She's outspoken. She collects frog decorations, and even has frog pajama pants. I imagine her a lot like a short-haired Kristin Kreuk. She just needs some purple in that hair.
Zahra, Gena's dance teacher and mentor. She's a bit of a techno-phobe trapped in the world's most technologically advanced city. She's Muslim. She's got the coolest French accent in the world. I could listen to her talk in my head all day. I imagine her as French-Algerian actress Leila Bekhti with a hijab.
Hazel, Gena's mom, is proper and polite. Her preferred way of showing affection is to store one of her memories in a household object for her family to share. She's proud of Gena, but a little too controlling for her daughter's liking. I can see Nicole Kidman playing Hazel.
Gena's dad, Kierce, is proper and formal like his wife. He's strict and his temper flares often, but he has a softer side and brings donuts and flowers to every dance concert she has. I can see him as actor Russell Wong.
And there you have it! On the slim chance THE UNHAPPENING OF GENESIS LEE gets made into a movie, this is who would very likely not be in it. But if I made my own movie and had endless funds and full control over casting, I'd at least give these folks an audition!
~~~~~~~~~~~~~~~~~~~~~~~~~~~~~~~~~~~~~~~~~~~~~~~~~~~
Thanks so much to Shallee for doing this amazing dream cast! I love all of these characters, and I can definitely see these people as visuals of them. I hope THE UNHAPPENING OF GENESIS LEE becomes a movie someday (and that the director doesn't screw it up). Be sure to check back on November 3rd to find out what my final review was! (A copy of THE UNHAPPENING OF GENESIS LEE is also being given away on Goodreads!)
Connect With Shallee: Ξ Goodreads Ξ Amazon Ξ Barnes and Noble Ξ shalleemcarthur.com Ξ Twitter Ξ
---
Shallee McArthur originally wanted to be a scientist, until she discovered she liked her science best in fictional form. When she's not writing young adult science fiction and fantasy, she's attempting to raise her son and daughter as proper geeks. A little part of her heart is devoted to Africa after volunteering twice in Ghana. She has a degree in English from Brigham Young University and lives in Utah with her husband and two children.
She is represented by Hannah Bowman of Liza Dawson Associates. Her YA sci fi novel, THE UNHAPPENING OF GENESIS LEE, debuts from Sky Pony Press Nov. 4, 2014.
And because people always ask, her name is pronounced "shuh-LEE." But she answers to anything that sounds remotely close.