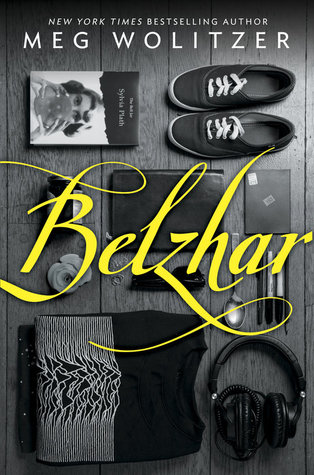 If life were fair, Jam Gallahue would still be at home in New Jersey with her sweet British boyfriend, Reeve Maxfield. She'd be watching old comedy sketches with him. She'd be kissing him in the library stacks.

She certainly wouldn't be at The Wooden Barn, a therapeutic boarding school in rural Vermont, living with a weird roommate, and signed up for an exclusive, mysterious class called Special Topics in English.

But life isn't fair, and Reeve Maxfield is dead.

Until a journal-writing assignment leads Jam to Belzhar, where the untainted past is restored, and Jam can feel Reeve's arms around her once again. But there are hidden truths on Jam's path to reclaim her loss.

From New York Times bestselling author Meg Wolitzer comes a breathtaking and surprising story about first love, deep sorrow, and the power of acceptance.
Description taken from Goodreads.
---
Not gonna lie, BELZHAR is pretty slow-paced. The book starts off slow, goes into the middle, and ends slowly. I do think that the sleepy feeling that I get from Belzhar was actually enjoyable in the sense that I thought it fit really well with the overall tone of the writing, but I had wished that the book was a little faster paced.
I think that the premise behind BELZHAR was awesome. There were so many moments where I just LOVED the way that certain parts to BELZHAR were executed, but at the same time there were so many moments where I felt like I just could not relate to Jam (hated that name by the way) and her struggles. In that way, I felt like Meg Wolitzer could've made the book so much more powerful because in the beginning, I felt like this book would end and be a journey like How to Say Goodbye in Robot, one of my all-time favorite books.
Sadly, this book did not end up like HOW TO SAY GOODBYE IN ROBOT. I was let down. A little.
There were several other flaws in how BELZHAR was pulled off. For one thing though, before I go into that, this book had a lot of potential, and I think that's why BELZHAR was such a major disappointment for me. I had wanted so much and initially, I thought that I actually would get all the things I wanted from BELZHAR–but it didn't end up happening.
The first of the problems I had was the connection to Sylvia Plath. The connection was weak, and even if readers did understand the connection (which I don't think the majority of the target audience will)–I still don't think it would truly matter to them. I felt like it was unnecessary.
Show, don't tell. I will be the first to admit that this is not the way to go for some writers and some books, but I also believe that it is a part of helping a reader to visualize, understand and believe what the writer is saying. One of the first instances where this happens is with Jam's teacher. She's awesome, and the snippets of her I got I loved. The reader can also see it in the things that happen that seem minimal but are actually very important.
There were so many things I wanted from BELZHAR that I just didn't get, but at the same time it was still an enjoyable read, and I did think that it was fun and worthwhile. At the same time though, it's not a book that I loved in a literary sense. 3 stars.
pg count for the hardback: 264