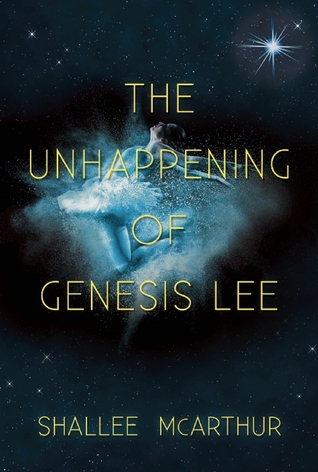 Seventeen-year-old Genesis Lee has never forgotten anything. As one of the Mementi—a small group of genetically-enhanced humans—Gena remembers everything with the help of her Link bracelets, which preserve memories perfectly. But Links can be stolen, and six people have already lost their lives to a memory thief, including Gena's best friend.

Anyone could be next. Which is why Gena is less than pleased to meet a strange but charming boy named Kalan who claims that they've not only met, but that Gena knows who the thief is.

The problem is, Gena doesn't remember Kalan, she doesn't remember seeing the thief, and she doesn't know why she's forgetting things— or how much else she might forget. As growing tensions between Mementi and ordinary humans drive the city of Havendale into chaos, Gena and Kalan team up to search for the thief. And as Gena loses more memories, they realize they have to solve the mystery fast.

Because Gena's life is unhappening around her.
Description taken from Goodreads. I received an advance copy of this book via the publisher from Edelweiss in exchange for an honest review. These opinions are my own. This book will be released on November 18th, 2014.
---
There were so many things I liked and disliked about this story. Overall, it was very entertaining and I really enjoyed reading this story. There were so many different aspects to it, and much of it was written in a very realistic light. I thought that McArthur portrayed the emotions of the people in this story very well and the way that memory loss could affect people. I also thought that the science behind which McArthur based this book off of as well as how the world got to the point it did in THE UNHAPPENING OF GENESIS LEE was believable and solid.
However, there were a few things I had issues with, the first being with the main character–Genesis. I like the Asian influence here, but it's not really present or major in any way other than a little bit in the beginning. Genesis is smart and likable at times, but she's also extremely naive, shortsighted and has a temper at the worst of times. I had a difficult time liking her and disliking her, because her flaws made her more realistic but she did make some very unfortunate decisions.
As for the writing and plot line, the romance was a little rushed. The two main characters, Kallan and Genesis, meet quickly and have a mutual attraction to each other pretty quickly, but it doesn't get acted upon for most of the story. It's nice to see what they have build it, but sometimes it feels like the romance plot line is left alone for a little bit, then come back to, and on and on. Not bad in a major way, but annoying all the same. The plot line is a little slow, especially during the investigation parts, but it does pick up after it becomes slow.
When it comes to writing, one thing I really appreciated was the lingo. This is no BLOOD RED ROAD or SALVAGE. The made-up lingo is extremely easy to pick up on meanings, and it's used efficiently. The writing is very readable and not hard to understand, and the mystery elements especially pick up really well over the course of the book. I was really unsure about some of the religious elements to this book (Kallan's dad is a preacher) and I didn't think it put the best light on religion and Christianity in general.
I think that the characters, villains and heroes were fairly well written here. I thought the motivations were a little extreme or stretched, but I could understand them. The mystery was stretched out a loud which I felt was unnecessary, but it was still fun to see Kallan and the others follow the clues to the end. I didn't think that any of the characters really grew over the course of the book, but I also appreciated the way that the two rival groups here were able to come over some of their prejudice for each other.
Overall, this book was entertaining and something that I would recommend. It was a lot of fun in the sci-fi and premise parts to it, and I really enjoyed following the mystery. I would've liked more action and adventure themes to it, but overall a very worthwhile debut. I'm looking forward to what else McArthur comes out with. 3.5 stars.
pg count for the hardback: 352