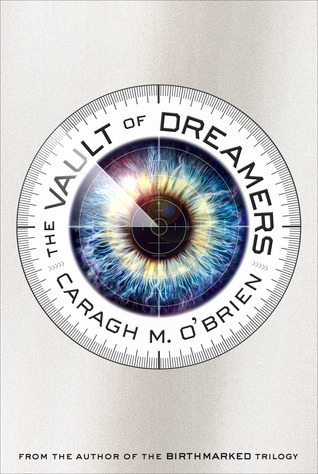 From the author of the Birthmarked trilogy comes a fast-paced, psychologically thrilling novel about what happens when your dreams are not your own.

The Forge School is the most prestigious arts school in the country. The secret to its success: every moment of the students' lives is televised as part of the insanely popular Forge Show, and the students' schedule includes twelve hours of induced sleep meant to enhance creativity. But when first year student Rosie Sinclair skips her sleeping pill, she discovers there is something off about Forge. In fact, she suspects that there are sinister things going on deep below the reaches of the cameras in the school. What's worse is, she starts to notice that the edges of her consciousness do not feel quite right. And soon, she unearths the ghastly secret that the Forge School is hiding—and what it truly means to dream there.
Description taken from Goodreads.
---
DNF at 140 pages.
I had exactly one problem with THE VAULT OF DREAMERS, and that problem was the beginning of many other problems. The problem was Rosie herself.
In a lot of the reviews I've read of this book and what from feedback other reviewers have given me, this book seems to be on the list of no why this ending nooooooo.
Somewhere along the lines of:
Knowing that, I just couldn't go on after 140 pages.
First of all, Rosie is boring. She's not fleshed out or unique or really anything at all. In fact, she seems like a book character–or at least, the stereotype of how book characters are. Dull cardboard cutouts of people. Beings that aren't real and therefore, do not matter. It wasn't just Rosie though. It was her entire family and many of the people around her. I guess what I mean to say is that the heart of the story just wasn't there for me. There was a lot of potential, but many of the scenes where this potential could have been used were wasted. More on that later.
Linus was really the only character I genuinely enjoyed reading about, and I have to admit he's not all that I wanted him to be. Unearthing a characters takes a lot of work; not just showing one side of the character but the way that people actually are, complex and different.
Rosie starts off the story by making friends, her first real friends at Forge. So, this entire time, she hasn't made one friend–but then she just magically starts making a lot of them. And the thing is–she uses them in order to stay at Forge. She likes to pretend that what she was doing wasn't actually using them, but what she really did was she capitalized on everyone around her, especially her high-ranking friends.
As for the scenes, there just wasn't enough for me. I liked the tension that was built up over the course of the story and the underlying tone that was something was very, very wrong with the people at Forge–but the transitions didn't work. O'Brien would bring in tension, then cut it off immediately. There was so many anticlimatic moments where it didn't build up smoothly that I really wished had been executed better.
Lastly, there was one more reason why I was bored with this story.
The premise itself and the themes behind it.
I loved the premise of this story. It seemed like it would be a great mix of reality tv and science fiction, but in reality what ended up happening was the same thing that tends to happen with dual POVs. They weren't balanced properly, if at all. In the beginning, this wasn't noticeable to me at all. I actually loved the way that the two factors were balanced, but as the story went on the entire thing started getting more and more unhinged.
Overall, I didn't really understand this book. I didn't know what was supposed to be achieved by it, or what it was supposed to teach, the emotions it was supposed to evoke, etc. I guess it's purpose was to show the reader the grand secret behind the Forge school, but from where I think it's going and how unraveled the book had become up to the point where I stopped, that grand unveiling just wasn't enough.
This book may very well be a great example of it's not you, it's me, but I would much rather recommend this author's BIRTHMARKED series than this one. 2 stars.
pg count for the hardback: 432
Series: **I didn't find out what this series was called, it's not titled on Goodreads–but it is confirmed that it is a series.**