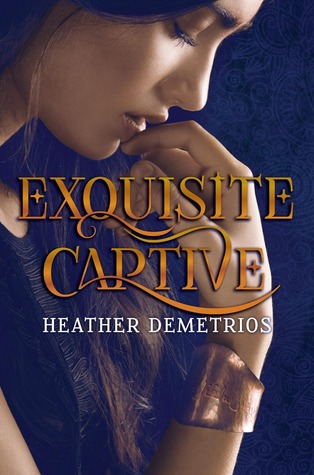 Series: The Dark Caravan #1
Forced to obey her master.
Compelled to help her enemy.
Determined to free herself.

Nalia is a jinni of tremendous ancient power, the only survivor of a coup that killed nearly everyone she loved. Stuffed into a bottle and sold by a slave trader, she's now in hiding on the dark caravan, the lucrative jinni slave trade between Arjinna and Earth, where jinn are forced to grant wishes and obey their human masters' every command. She'd give almost anything to be free of the golden shackles that bind her to Malek, her handsome, cruel master, and his lavish Hollywood lifestyle.

Enter Raif, the enigmatic leader of Arjinna's revolution and Nalia's sworn enemy. He promises to free Nalia from her master so that she can return to her ravaged homeland and free her imprisoned brother—all for an unbearably high price. Nalia's not sure she can trust him, but Raif's her only hope of escape. With her enemies on the hunt, Earth has become more perilous than ever for Nalia. There's just one catch: for Raif's unbinding magic to work, Nalia must gain possession of her bottle…and convince the dangerously persuasive Malek that she truly loves him. Battling a dark past and harboring a terrible secret, Nalia soon realizes her freedom may come at a price too terrible to pay: but how far is she willing to go for it?

Inspired by Arabian Nights, EXQUISITE CAPTIVE brings to life a deliciously seductive world where a wish can be a curse and shadows are sometimes safer than the light.
Description taken from Goodreads.
Today I get to help host a really awesome giveaway as a part of the ever-amazing Heather Demetrios's EXQUISITE CAPTIVE. I recently got the chance to read the book (my review will be coming out soon!) and I had a lot of interesting thoughts about it. I can't wait for other people to read this book too (BECAUSE I NEED PEOPLE TO FLAIL WITH ABOUT THIS), so I'm happy to tell you that even if you don't win today, don't worry! This is a giveaway relay.
I'll let Heather explain it to you:
---
Here's the deal:
See the schedule below? Time to memorize it because starting November 3rd, there will be a giveaway of a hardcover edition of Exquisite Captive with a signed bookplate EVERY WEEK DAY for a month (US only). What?!
My Blogger Caravan is doing a blog relay. Each blog will host a giveaway of the book for one day only.The winner will be announced the next day on a new blog – they're basically passing the book baton.
9:00 am EST a giveaway begins.
It ends at midnight EST that day (or whenever each blogger specifies).
The winner will be announced on the next blog at 9am EST.
If you didn't win, you can enter the next blog's giveaway. If you did win – yay! (Don't enter anymore, though – sharing is caring).
Good luck!
---
Supernatural Snark Winner: Emma McAndrew
About Heather
I love books. I love writing stories almost as much as I like reading them. When I'm not traipsing about the world, I prefer to spend my time in imaginary places, living my What—maybe I'll see you in one of them. I'll be the one with my nose in a book and more tattoos than your mother would approve of.
Giveaway!
Thanks so much to Heather and HarperCollins for the opportunity to do this fun giveaway! As mentioned above, this giveaway will be open until midnight tonight (Monday, November 10th) in PST time. One lucky winner will get an awesome signed bookplate and a hardback copy of Exquisite Captive. Below are the things you can do to qualify. Winner will be determined via Random.org.
[youtube https://www.youtube.com/watch?v=XsKpG6oBQW4]
Comment on this post why you're excited for Exquisite Captive! +3
Follow me on Twitter @elimadison2019 +5
Follow Heather on Twitter @HDemetrios +5
Like my page on Facebook +5
Like Heather's page on Facebook +5
Follow RealityLapse by email, WordPress or Bloglovin +10
Post the meme below on any social network and paste the link in a comment below +3


Tweet this message: +5
I entered to win a hardback copy of EXQUISITE CAPTIVE by @HDemetrios from @elimadison2019. Be sure to hop on the giveaway relay!