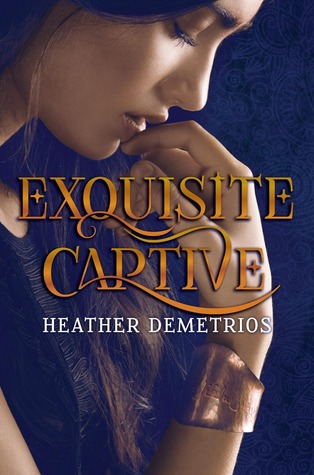 Forced to obey her master.
Compelled to help her enemy.
Determined to free herself.

Nalia is a jinni of tremendous ancient power, the only survivor of a coup that killed nearly everyone she loved. Stuffed into a bottle and sold by a slave trader, she's now in hiding on the dark caravan, the lucrative jinni slave trade between Arjinna and Earth, where jinn are forced to grant wishes and obey their human masters' every command. She'd give almost anything to be free of the golden shackles that bind her to Malek, her handsome, cruel master, and his lavish Hollywood lifestyle.

Enter Raif, the enigmatic leader of Arjinna's revolution and Nalia's sworn enemy. He promises to free Nalia from her master so that she can return to her ravaged homeland and free her imprisoned brother—all for an unbearably high price. Nalia's not sure she can trust him, but Raif's her only hope of escape. With her enemies on the hunt, Earth has become more perilous than ever for Nalia. There's just one catch: for Raif's unbinding magic to work, Nalia must gain possession of her bottle…and convince the dangerously persuasive Malek that she truly loves him. Battling a dark past and harboring a terrible secret, Nalia soon realizes her freedom may come at a price too terrible to pay: but how far is she willing to go for it?

Inspired by Arabian Nights, EXQUISITE CAPTIVE brings to life a deliciously seductive world where a wish can be a curse and shadows are sometimes safer than the light.
Description taken from Goodreads.
---
I guess what I wanted, more than anything else, was this book not to focus on the romantic part of the nature of this book. That's exactly what it did.
I'm not saying I didn't enjoy it, and I guess that's where all this gets complicated. It was, at it's very core, an entertaining story–but the reality of this book is that basically nothing happens in the first half of the book, the 'dangerous' and 'amazing' Malek is abusive and just plain weird, for someone who is all-powerful and one of the greatest jinnis that has ever lived, Nalia is awfully weak and Raif is the only one who seems to have a speck of common sense in this story.
And there I go again, making this book sound like I didn't actually like it.
I think it has to do with the fact that while I didn't actually like the writing or the execution of it, at it's core I was entertained by it and I did enjoy the story as a whole. I mean–look at Raif and Nalia. I loved the couple, I really did, but no matter how I looked at it the relationship seemed forced. Nevertheless–
Another thing I really appreciated about this book was the diverse characters. With such a huge campaign for We Need Diverse Books and as a huge believer in the world's need of diverse books, I was really excited to read this story. It turned out to be a good and a bad thing, but a mostly-positive thing. I loved the way that Demetrios wove so much history into this story, but at times it felt both overwhelming and a drag in the pace. Often times, dialogue or narrative would be interrupted by a random flashback that attempted to prove a certain relationship or show some history (both were great) but, as mentioned before, it was random and unneccesary.
Then there's Nalia, full of contradictions.
She's extremely powerful, humble, magical except… when she's not. She's an amazing ruler, the rightful heir to the throne. Her species of jinni is the most powerful–and they protect an all-powerful weapon. She protects this weapon… except when she doesn't. No one knows about this weapon… except everyone does. She's self-sacrificing and wise… except she's willing to sell out the entire jinni race in one selfish move.
While I did have a few issues with Nalia, it was nothing that bothered me constantly over the course of the story. The book did have a very exciting end half, and I do have high hopes for the next book in the series. I believe it holds a lot of potential. I have to admire Heather on many notes. For half a second, I was able to pity Malek–and have many other emotions I didn't think this book would be able to draw out. This story, while stereotypical at times, holds a very important message, and I think that that was a very importance part of this story to me.
Overall, this book was extremely well-researched, that is for sure. There's a lot about history, slavery and torture–but the story is very intense. It's not for those who are looking for a great literary work, but rather an entertaining journey. There were some parts I skimmed or skipped, because really–they just weren't for me. EXQUISITE CAPTIVE was great, but I do want more in the next story of them. 3 stars.
pg count for the hardback: 480
Series: Dark Caravan Cycle