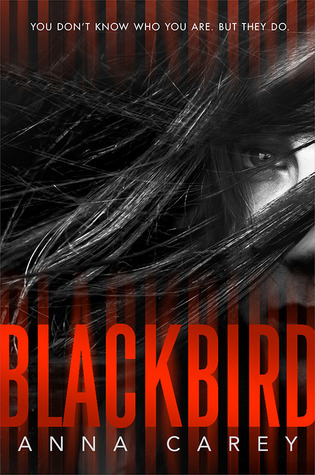 A girl wakes up on the train tracks, a subway car barreling down on her. With only minutes to react, she hunches down and the train speeds over her. She doesn't remember her name, where she is, or how she got there. She has a tattoo on the inside of her right wrist of a blackbird inside a box, letters and numbers printed just below: FNV02198. There is only one thing she knows for sure: people are trying to kill her.

On the run for her life, she tries to untangle who she is and what happened to the girl she used to be. Nothing and no one are what they appear to be. But the truth is more disturbing than she ever imagined.

The Maze Runner series meets Code Name Verity, Blackbird is relentless and action-packed, filled with surprising twists.
Description taken from Goodreads.
---
I don't know why I was so excited for BLACKBIRD, but I was. I went into this book with the feeling that something good was going to happen, even if I didn't know what it would be. It turned out that the feeling I got when I first opened up the story was evidently not the feeling I would be having while reading it.
I wanted to believe that this book could be really great, despite the multiple reviews stating that the second person POV just does not work. I certainly am a fan of beautifully written second-person POV stories. If you look at books like ALL THE TRUTH THAT'S IN ME and The Rules of Survival, second person really can be very meaningful–but it just didn't work in this scenario. It takes way too long to get used to. I guess I can see some of the reasoning behind why Carey made it second-person, but in all honesty–even if the protag has no idea who she is or who anyone else is–I don't believe BLACKBIRD needed to be in this format.
Not only that, but the characters were hard to relate to. Instead of being nuanced, they were… bland, almost. I really wished that the characters had been more fleshed out and that the romance hadn't been so instalove-based. I understand that this is meant to be a short, quick, breezy thriller, but this book ended up being very weighed down because of the lack of pacing, narrative and character development.
All in all, I just couldn't get this story. There were so many things I didn't understand and way too many things that were left unsaid or undone in the end. For those of you looking for a much better version of this book, you should take a look at FIND ME by Romily Bernard. 1 star.
pg count for the kindle edition: 256