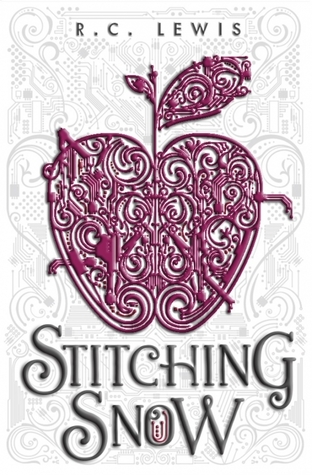 Princess Snow is missing.

Her home planet is filled with violence and corruption at the hands of King Matthias and his wife as they attempt to punish her captors. The king will stop at nothing to get his beloved daughter back—but that's assuming she wants to return at all.

Essie has grown used to being cold. Temperatures on the planet Thanda are always sub-zero, and she fills her days with coding and repairs for the seven loyal drones that run the local mines.

When a mysterious young man named Dane crash-lands near her home, Essie agrees to help the pilot repair his ship. But soon she realizes that Dane's arrival was far from accidental, and she's pulled into the heart of a war she's risked everything to avoid. With the galaxy's future—and her own—in jeopardy, Essie must choose who to trust in a fiery fight for survival.
Description taken from Goodreads.
---
STITCHING SNOW was my second choice. Occasionally, I become overwhelmed by book happiness and become excited to read everything currently on my shelf when before I hadn't been so excited about some. I picked up STITCHING SNOW on one of these spur-of-the-moment boosts and then impulsively decided to read it first having known or heard absolutely nothing about it.
Or the dumbest one, really. Because honestly R.C. Lewis, DO YOU EVEN KNOW WHAT YOU HAVE DONE TO ME?
STITCHING SNOW is everything that I needed at the time that I read it. It was beautifully written, with characters that are genuine, a romance that is (amazingly) actually thought out, a plot that is GENIUS and a story, that, quite frankly, left me wallowing in a book hangover hours after I read it.
The only things I can say about this book was that sometimes the pacing was a little off and I didn't love certain parts of the story just because they were slow or confusing. I also really disliked Dane's name, but that's just nitpicking.
But OTHERWISE, YES. YES YES YES. I've been a slump of meh books recently, and STITCHING SNOW is (I hope) the beginning of a brand new book start for me.
One of the things I was truly amazed by in this story is the part that is lovable, understandable and heartwarming without having to actually say those things. R.C. Lewis captures life in all it's beauty and betrayal and heartbreak in the dramatic way that a writer sees everything and yet it utterly real and everyday, in the best possible way. What do I mean by this? The best example is probably the characters.
I loved them. I didn't love all of them, but I loved many of them–and the development and relationships between them all were very well-written. I really appreciated the way that the romance developed instead of INSTALOVE, which has plagued me for weeks now, and that Essie truly fell in love with Dane. More so than that though, Essie is all about duty before love and swooning–even if she does have those moments. In the beginning, before doing anything else to admire him, she thinks about duty, protecting herself and her village. THAT IS THE WAY IT IS SUPPOSED TO BE. So many books put the romance before everything else without realizing it, and it is so tiring. STITCHING SNOW breaks away from those stories, and it is utterly refreshing.
I also really enjoyed and appreciated that Essie was written as a coder and programmer. As someone trying to get into those things, this was really special to me and I feel like not enough stories have these possibilities in them. I really felt like Essie truly was a programmer, instead of just being told about it and having no actual proof. I felt all her passion for what she does and honestly, it was a lot of fun to hear about her skills and the way that she grows over the course of the story.
More so than any of the human characters though, my favorites were probably the robots (drones) that Essie changed into little robots that help out in the mines and eventually come with her on her journey. Cusser and Dimwit were both heartfelt, amazing little characters in their different ways and I throughly enjoyed their roles in the story.
Overall, I loved STITCHING SNOW SO much. The characters go through many hardships and face the prospect of war at every turn. The characters have skills, flaws, priorities and logic–all things that are less common than you would think. R.C. Lewis did an amazing job with this story and THANK YOU FOR THIS BOOK (AND THE FACT THAT IT IS A STAND-ALONE). 4.5 stars.
pg count for the ebook: 338