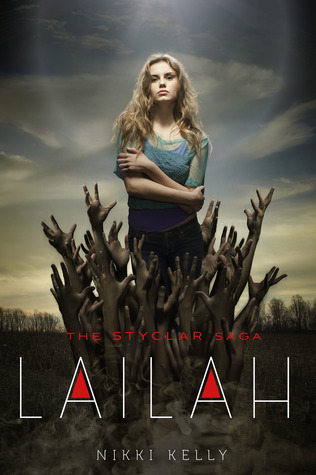 The girl knows she's different. She doesn't age. She has no family. She has visions of a past life, but no clear clues as to what she is, or where she comes from. But there is a face in her dreams – a light that breaks through the darkness. She knows his name is Gabriel.

On her way home from work, the girl encounters an injured stranger whose name is Jonah. Soon, she will understand that Jonah belongs to a generation of Vampires that serve even darker forces. Jonah and the few like him, are fighting with help from an unlikely ally – a rogue Angel, named Gabriel.

In the crossfire between good and evil, love and hate, and life and death, the girl learns her name: Lailah. But when the lines between black and white begin to blur, where in the spectrum will she find her place? And with whom?

Gabriel and Jonah both want to protect her. But Lailah will have to fight her own battle to find out who she truly is.
Description taken from Goodreads.
---
DNF at 152.
I can see why LAILA is such a success. It holds very mainstream ideals, for one thing. I'm not totally against paranormal romance. In fact, I've loved many paranormal books, but I just couldn't get into this story. There were so many things I just could not agree with and so many things I felt were one-dimensional, totally unnecessary or disgusting. That being said, I loved SO many of the twists and turns behind this book. I really was not expecting many of them, making this book okay at times. It was still disappointing, but I think the biggest issue was that I expected too much for LAILA from the hype that I'd heard.
And really, I do think that LAILA had a few good ideas. I mean–it's popular! The idea of an angel and a vampire and new mythology and a girl caught between them, it's poetical. But I didn't see it as poetical. I couldn't see it as poetical, especially when the brilliantly smart and ever-clever and utterly powerless, pathetic Francesca does things like complaining to guys about them hanging out with other girls when dear saint Francesca over here is STILL DECIDING WHICH GUY SHE WANTS TO GO WITH. Human beings are not toys.
AND IT'S NOT ONLY THAT. After I was disappointed AND continually disgusted by certain characters **COUGH** JONAH **COUGH COUGH COUGH** I decided to keep on going with the story and persevere in the hopes that the ending would bring about some sort of satisfaction.
NO.
The only thing I could truly begin to appreciate in LAILAH was Gabriel. I enjoyed how truly decent of a person that he was, or tried to be. I liked the way that he was set up, but in the end I had hoped that he'd have more dimension to him. With more exploration, he could be a fantastic character.
Overall, I just couldn't bring myself to love or even like this book. Francesca is so seriously skewed in her idea of right and wrong and what people should and should not do, when really she should be LOOKING AT HERSELF BECAUSE SHE IS THE BIGGEST ISSUE HERE. I wasn't in love with the writing or the pace. Both were incredibly choppy, but I could've dealt with it. It's the characters and the way that Kelly manipulates them into plot points that I cannot and do not want to understand that truly flipped me off the boat. 1 star (very close to a 1.5, but I just could not).
pg count for the kindle edition: 352
Series: The Styclar Saga