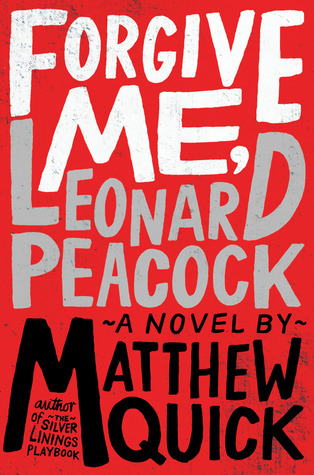 Leonard Peacock is turning 18.
And he wants to say goodbye.

Not to his former best friend, whose torments have driven him to consider committing something tragic and horrific.

Nor to his mum who's moved out and left him to fend form himself. But to his four friends.
A Humphrey-Bogart-obsessed neighbour
A teenage violin virtuoso
A pastor's daughter
A teacher

Most of the time, Leonard believes he's weird and sad but these friends have made him think that maybe he's not.

He wants to thank them, and bid them farewell.
Description taken from Goodreads.
---
What is this book even?
I don't know what I was expecting or what I was thinking or what exactly was going on when I decided to read this. It's all just a blur now. I've disliked all the Matthew Quick books I've ever read before. I mean–this… this… I READ IT BECAUSE IT'S GOING TO BE MADE INTO A MOVIE. Go ahead and judge me, but I am a classic example of why I try to appreciate all book-to-movie-renditions. For better or worse, it may drive one or two more (or even thousands more) people to the better other version of the story. And, of course, it will help the writer to keep on writing their magic.
Well–for whatever reason I read this book–I'm glad I did.
There's really one gif that sums up this whole review, and that is this:
Ironic that it's a SILVER LININGS PLAYBOOK gif. (For those of you who don't know, SLP was written by Matthew Quick). I actually love SLP, and for those of you who read SORTA LIKE A ROCK STAR and hated it, then you should try both SLP (the adult crowd) and this book (YA crowd). I actually really disliked SORTA LIKE A ROCK STAR, but I think that I'll reread it after this story.
Getting to the actual, nitty gritty of this story. Well, I'm pretty sure if you go into it you'll be going into it thinking Leonard is some crazy maniac.
I know that impression because I got that impression too. In fact, it made me really really really not want to read this book–but the thing of it is that Leonard is what makes this story. He is real and powerful and hateful and I can't help but love him all at the same time. With this story, Matthew Quick has taken a very real phenomenon in the lives of everyday people and turned it into something that is gritty, emotional, understandable and even relatable at times to today's teens and people across the world.
FORGIVE ME, LEONARD PEACOCK is heartbreaking and beautiful and ugly in every sense of each of those words. From the very beginning, it's easy to stand there (or sit) and judge him. It's also easy to very quickly see just how hard his life is, and the bright spots in his life. Memories are recounted realistically and brutally, things that he shouldn't have to remember but does. People who other people think don't matter, but do. Everyone is precious for sometimes the simplest reasons to someone else, and in seeing the people that matter to Leonard that is clear throughout this story.
It is the littlest things that end up making up Leonard's destiny, and that is what is amazing about this book. Pacing is stable, writing is intense, plot is a little slow but definitely entertaining and well worth every word. While I can't say I didn't agree with everything (which shall remain unnamed because most of my issue with this book lies with the later plot elements), I do certainly hope that they don't mess up the FORGIVE ME, LEONARD PEACOCK movie. For those of you wondering, this is an entirely non-cliche, unusual, out-of-whack, tears-worthy story. The things that lead Leonard to do the things that he does and the people and/or decisions he makes along the way are all stories that have been told, but not told in the right way, and not as intense as that. Props to Matthew Quick, because this is one fearless book. Definitely recommended for the young-adult crowd and up, not suitable for younger audiences. 4.5 stars.
pg count for the