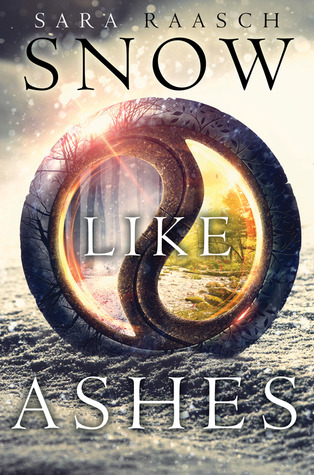 A heartbroken girl. A fierce warrior. A hero in the making.

Sixteen years ago the Kingdom of Winter was conquered and its citizens enslaved, leaving them without magic or a monarch. Now, the Winterians' only hope for freedom is the eight survivors who managed to escape, and who have been waiting for the opportunity to steal back Winter's magic and rebuild the kingdom ever since.

Orphaned as an infant during Winter's defeat, Meira has lived her whole life as a refugee, raised by the Winterians' general, Sir. Training to be a warrior—and desperately in love with her best friend, and future king, Mather — she would do anything to help her kingdom rise to power again.

So when scouts discover the location of the ancient locket that can restore Winter's magic, Meira decides to go after it herself. Finally, she's scaling towers, fighting enemy soldiers, and serving her kingdom just as she's always dreamed she would. But the mission doesn't go as planned, and Meira soon finds herself thrust into a world of evil magic and dangerous politics – and ultimately comes to realize that her destiny is not, never has been, her own.
Description taken from Goodreads.
---
SNOW. LIKE. ASHES.
I had been waiting for this book so long and when I finally got the chance to read it, it didn't disappoint. Right off the bat, two things I loved: characters and world-building. Descriptions of both the people as well as the scene was amazing and I felt like it gave me a perfect picture of what I was looking at. The season-settings were amazing and I loved the tensions between all the different kingdoms. Think of it as a cross between Game of Thrones and Julie Kagawa's THE IRON FEY.
Their hair hung in tendrils as dark as the night sky, swaying in the dust kicked up from the roads that wove through Autumn's tent cities. Their skin glistened the same coppery brown as the leaves on some of their trees, only where the leaves were crinkled and dry, the Autumnians' faces were perfectly creamy.
I touched my own skin, as pale as the clouds drifting over us, and ran my fingers across the cap covering my blindingly white hair.
I enjoyed every word of the world-building and getting to know these kingdoms, becoming lost in the words.
It isn't even the world-building that impressed me the most though. It was the characters. Admittedly, sometimes I was exasperated because of the LOVE TRIANGLE in this story and the way that it feels like Meira tries too hard sometimes. I almost feel like certain character points are trying to be pushed when I can already tell things through her actions. Even so, I loved the relationships between people and the multi-dimensionalism in each character.
And, I do have to say that the love triangle isn't that bad. Both have bad sides and good sides. Both are flawed. Both are believable, so I guess it works in this story, but I didn't love both of them. I was strongly for one side, so even though I can see why this love triangle works, I don't agree with it.
Do you see what you've done to me, Sara? DO YOU SEE? I HAVE TO ACKNOWLEDGE THAT I UNDERSTAND BUT I WANT TO HATE ONE GUY BUT I CAN'T.
-.-
Moving on. Overall, there were so many things I LOVED about this story, and there was nothing I especially disliked. I did think it was slow at parts and a little repetitive, but overall the story was brilliant and the world-building/characters were amazing. I love this debut, even though it was incredibly long, and I can't wait to see what else happens in this world. I NEED THE SEQUEL. Amazing debut that I would recommend for high fantasy fans and Sarah J. Maas fans. (not kidding here). 4.5 stars.
Read my Would You Rather with Sara Raasch.
pg count for the hardback: 422