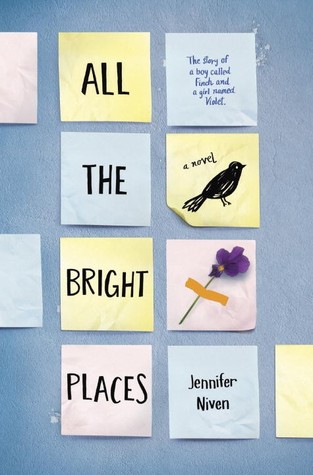 The Fault in Our Stars meets Eleanor and Park in this compelling, exhilarating, and beautiful story about a girl who learns to live from a boy who intends to die.

Theodore Finch is fascinated by death, and he constantly thinks of ways he might kill himself. But each time, something good, no matter how small, stops him.

Violet Markey lives for the future, counting the days until graduation, when she can escape her Indiana town and her aching grief in the wake of her sister's recent death.

When Finch and Violet meet on the ledge of the bell tower at school, it's unclear who saves whom. And when they pair up on a project to discover the "natural wonders" of their state, both Finch and Violet make more important discoveries: It's only with Violet that Finch can be himself—a weird, funny, live-out-loud guy who's not such a freak after all. And it's only with Finch that Violet can forget to count away the days and start living them. But as Violet's world grows, Finch's begins to shrink.

This is an intense, gripping novel perfect for fans of Jay Asher, Rainbow Rowell, John Green, Gayle Forman, and Jenny Downham from a talented new voice in YA, Jennifer Niven.
Description taken from Goodreads. This review copy was provided to me by the publisher in exchange for an honest review. These opinions are my own. Thanks to Lydia Finn and Knopf for giving me the chance to read this book! It will be coming out on January 6th, 2015.
---
It's hard to explain exactly why ALL THE BRIGHT PLACES is so beautiful, but let me start off by saying that this story is not your typical story about death or loss or bullying.
This story can't really be compared to anything else. I wouldn't say it's TFIOS, and I definitely would not say it's Eleanor & Park, but I would say that this book has an entirely different feeling to it, just like TFIOS. Finch, in particular, is someone who is entirely his own. While Violet struggles with suicide and loss in this book, Finch deals with mental illness and bullying. These two people meet on top of a bell tower, which I'm sure is a great way for them to tell their future children and grandchildren that they met.
The thing is, I'm not sure it's so much about the bell tower and more about finding someone–not even someone who you think you'll somehow come to love someday–but just someone, in your darkest moment. (excuse for that horrendously cheesy and deep line: I read too much YA).
The thing is, and I love that in this story: Finch and Violet are just people. Some of you reading this might hate me for this, but Finch is the same as Augustus Waters. I think that if they ever met, they would either become the worst of enemies or the best of friends. What I mean by saying that they're the same is not that they're similarly clever or cool or disabled or frustrated, but they're similarly real and normal and here. Beneath the sum of their parts, they're still just human, and Jennifer Niven portrays that brilliantly and heartbreakingly. (Okay, I'm using up all my this-is-my-YA-life chips today).
That's the thing, really. Please, go into this story and read it and love it and be surprised by it and DON'T PUT OUT ANY SPOILERS. Or else… I'll maybe start feeling something such as…
And I already have feeling overload from ALL THE BRIGHT PLACES.
I'm probably reading too much into it, but what I appreciated about the way Niven set this book up was how little I knew at the beginning. I didn't know what mental illness Finch had, for one thing, and for the sake of spoilers I'm not going to mention it here. I think that goes along with the idea that Finch and Violet are just people. Things like the things that are happening to Violet and Finch happen to everyday people, not aliens or monsters or something faraway and distant.
This book hurts. It's sad, shocking, crazy, heartbreaking and beautiful–but ultimately hopeful. It's well-written, well-paced, hilarious at times, and well built up. I loved the way the POV switched between Violet and Finch and how they, in the end, come to gradually fall for each other. Niven writes this story in a way that is different from any other author I've read before, and it's not sad in the traditional, cry-your-eyes-out sense. It's sad in a way that makes this feel less like a movie and more like real life. Great story. 4.5 stars.
a Rafflecopter giveaway
The giveaway winner will be posted on this blog when the dream cast for ALL THE BRIGHT PLACES is posted on the 30th! (If you have any questions please read the terms and conditions. Everything is in the Rafflecopter.)
pg count for the hardback: 384