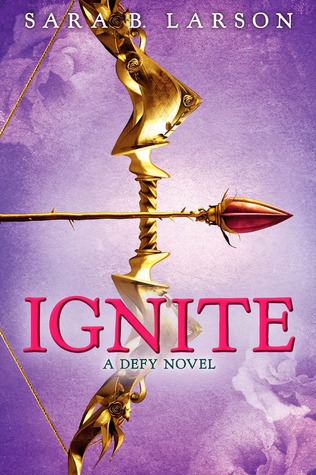 Murder, abductions, and forbidden romance abound in this thrilling sequel to Sara B. Larson's acclaimed YA debut, DEFY.

Alexa remains by the newly crowned King Damian's side as his guard, ever committed to helping him rebuild Antion and reclaim the hope of Antion's people, despite continuing to harbor a secret love for him. However, when another threat to Damian and his kingdom emerges, and blame is cast on their newly forged allies from Blevon, Alexa knows things are not what they seem. With the fate of her nation hanging in the balance once again, will Alexa be able to protect her king and uncover the true enemy — before it's too late?
Description taken from Goodreads.
---
**This review does have some small spoilers**
I started 2014 off with DEFY, the first book in this trilogy, and 2014 ended up being pretty freaking spectacular so I decided to start 2015 off with IGNITE.
IGNITE starts out where Damian and Alexa left off. And Damian's king, which makes this book entirely different from DEFY. In the spirit of love and honor, let's talk about the romance first.
This series is a love triangle. To be honest, I don't really enjoy love triangles, but I'm open to them when a good one comes up (i.e. Marie Rutkoski's THE WINNER'S CURSE). This book really teeters in the middle of a good love triangle and a bad one for me. For one thing, I do like the romance. Damian and Alexa seem like a good couple to me, but Alexa and Rylan? I really just don't see why the love triangle exists, or if it's even a love triangle, because Alexa has absolutely no interest in Rylan in that way and for most of IGNITE Damian doesn't even know that Rylan likes Alexa. It's basically all Rylan by himself, so I don't know if something is going to happen in DEFY #3 or what, but I had wanted to see more of Rylan and what's going on in IGNITE.
Despite that, the romance was still very much in IGNITE. One thing I thought was a little sketch was when Alexa reveals all her fears to Damian and he brushes them away by saying that maybe all people aren't like that and his opinion is the only one that matters. I can kind of accept this, but Alexa being convinced that he's right and that the people will just love her because Damian said so and Damian's opinion is the only one that matters when he's a king and he's got a nation to rule? ehhhhhh probably not.
There were a few other instances I'm not going to name here of things going a little towards the direction of suspended disbelief, but I really did love the romance in IGNITE. Alexa and Damian finally get somewhere, and they confront the fears from both Damian and Alexa's sides. Larson did a fantastic job with Alexa's inner-conflict and acceptance, and I hope that she continues on with Alexa. Initially, in DEFY, I didn't think that Alexa could grow very much as a character, but she does in IGNITE, and I was really impressed by that.
As for plot, I did think it went around in circles a little where Damian and Alexa are stuck in this trap of trying to save everyone and everything that goes awry. I really enjoyed the cliffhanger that Larson leaves off on, but I CANNOT wait for the next book in the series. Larson also really focused on Damian's struggle with his new duty as king and the scars that come back from his past. She wrote the political sides to this story very well, in a way that wasn't boring and moved quickly but still covered what needed to be covered.
Overall, I think that IGNITE was much better organized than DEFY. I never had to go back to see what was going on and the book follows a very clear storyline. I was interested the entire time that I was reading it, and the pace never slowed down too much. I did want a little more action/actual fight scenes and less of the Girl Terminator archetype, but this book isn't nearly as bad as many of those that have come out recently.
There's plenty going on to keep the reader occupied, and the plot points are well-covered but not frustrating. IGNITE was very realistic in the sense that it talked about Alexa's struggles with herself and others, and I enjoyed those parts a lot. It also went way more in-depth with the supporting characters and showed me different sides to them.
I would recommend DEFY and IGNITE to high fantasy fans and people who loved DEFY. Whether you want good juju or you're simply looking for a great book, pick up a copy of IGNITE and join me in starting off 2015 right. :D 4 stars
pg count for the ebook: 304
Series: Defy #2