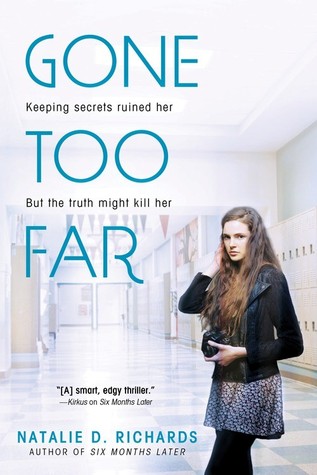 Keeping secrets ruined her life. But the truth might just kill her.

Piper Woods can't wait for the purgatory of senior year to end. She skirts the fringes of high school like a pro until the morning she finds a notebook with mutilated photographs and a list of student sins. She's sure the book is too gruesome to be true, until pretty, popular Stella dies after a sex-tape goes viral. Everyone's sure it's suicide, but Piper remembers Stella's name from the book and begins to suspect something much worse.

Drowning in secrets she doesn't want to keep, Piper's fears are confirmed when she receives an anonymous text message daring her to make things right. All she needs to do is choose a name, the name of someone who deserves to be punished…
Description taken from Goodreads. I received an advance copy of this book, to be released January 6th, 2015, in exchange for an honest review. These opinions are my own.
---
Shall we say… Death Note?
Okay, no.. just, no. But GONE TOO FAR can stand on it's own.
Probably my favorite thing about GONE TOO FAR is the characters in it. When I first opened this book up, I expected it to be at least as good as Six Months Later, but it wasn't.
It was so much better.
The mystery was the very first thing that I noticed I was enjoying much more than SIX MONTHS LATER (not that SML was bad, it just wasn't my favorite book. I actually really enjoyed it). The mystery goes by at a fairly fast pace. It isn't too hard to figure out, but it kept me occupied the entire course of the story. I enjoyed watching every aspect of the book play out, especially when I saw where everything was going.
The fact of the matter is that in the beginning, Piper just wasn't very likable to me. Sure, there were plenty of strong points about her. She was never so unlikable that I thought about not reading the book the whole way through because of her, just irritating in many ways, especially when faced with the ups and downs as well as consequences of what she brings about in the aftermath of Stella's death. In fact, Piper is likable in a lot of ways. She's smart, she knows what her weaknesses/strengths are, she's realistic and she's relatable.
But she's also reckless at times, and dives straight into the idea of revenge without looking at the mysterious texter seriously sideways even once, what her actions could mean for other people. I also didn't love how she handled the realization that the so-called vigilante had "gone too far", to bring in the namesake of this book.
Things got way better after Piper realized that she had to do something about the situation at hand, to reverse things and make them better instead of worse. After that point, she came to genuinely think about the assumptions she'd made to get her to that point and help her out of it. Then an awesome character change came into place. The development that happens here, because of the events that have happened and the people around her, Richards highlights her characters at their very best and very worst in a way that shows how nuanced and real GONE TOO FAR is.
I think my greatest disappointment with GONE TOO FAR was that at the end, it struck me that this book could've been more. There were a few scenes that were spent on petty drama that I especially wanted to stick out more, to reach farther, to dig deeper into the mystery and the mess Piper got herself into, or get into the emotional weight of certain scenes more.
Overall, I really enjoyed GONE TOO FAR. The observations by Piper are vivid, well-drawn and allowed me into her world. Richards shows the relationships, growing, broken and the way they are in the beginning/end extremely well. They're not just kind or mean, they're everything in between. GONE TOO FAR has a complicated villain, a great mystery, an endearing heroine and writing that completely transported me into the middle of it all. I would recommend this book for people who liked DEAR KILLER by Katherine Ewell but wanted more. For people who have read GONE TOO FAR already and wanted more from it, I would recommend LIARS, INC. by Paula Stokes. 3.5 stars.
pg count for the paperback: 304