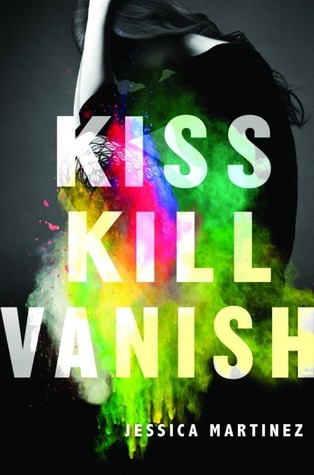 Valentina Cruz no longer exists.

One moment, she was wrapped in Emilio's arms, melting into his kiss. The next, she was witnessing the unthinkable: a murder in cold blood, ordered by her father and carried out by her boyfriend. When Emilio pulled the trigger, Valentina disappeared. She made a split-second decision to shed her identity and flee her life of privilege, leaving the glittering parties and sultry nightlife of Miami far behind.

She doesn't know how to explain to herself what she saw. All she knows now is that nothing she believed about her family, her heart, or Emilio's love, was real.

She can change her name and deny her past, but Valentina can't run from the truth. The lines between right and wrong, and trust and betrayal, will be blurred beyond recognition as she untangles the deceptions of the two men she once loved and races to find her own truth.
Description taken from Goodreads.
---
KISS KILL VANISH didn't do it for me from page one, and that didn't help the fact that I was so uninvolved with this book that up until I actually opened it, I thought that the title was Kiss Will Vanish.
First things first: boring. This is a boring runaway story disguised a thriller. It is not a thriller in any way, shape or form. I was bored with the majority of this story, and it didn't help that Valentina is so unlikable. All she does is complain. Complain. Complain. Much like I'm doing about Valentina right now.
Valentina likes to think she's better than everyone else, which is part of why I dislike her so much. She is constantly along the lines of if I were at home you would know how cool I am. Speaking of home, of course Valentina ran away from home right after realizing that her boyfriend was a killer. She didn't stop to think about how to run away or plan at all so she ended up with basically nothing after awhile. Then someone came to rescue, which ends up happening the whole book.
It all goes back to the matter of the boyfriend, or boyfriends, considering this is a love triangle. But the original boyfriend. Valentina ran away in a panic because she saw Emilio kill someone, BUT THE ENTIRE BOOK SHE'S CONSTANTLY PINING AFTER HIM. Yes, even when she's with the other guy.
Y U MAKE NO SENSE???
Then Valentina's benefactor dies, and the whole mish mash of nonsense continues. The plot holes, dislikable characters and lack of pacing were only part of why I just couldn't bring myself to love this story the way I wanted to.
All in all, KISS KILL VANISH is an okay story if you don't go into it expecting a thriller and you're okay with Valentina's minor annoyances. Some books I would recommend instead are TRANSPARENT by Natalie Whipple or LIARS, INC. by Paula Stokes. 2 stars.
pg count for the hardback: n/a