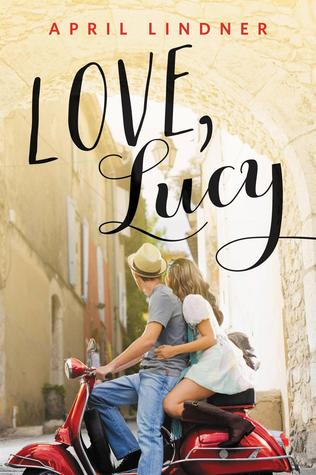 While backpacking through Florence, Italy, during the summer before she heads off to college, Lucy Sommersworth finds herself falling in love with the culture, the architecture, the food…and Jesse Palladino, a handsome street musician. After a whirlwind romance, Lucy returns home, determined to move on from her "vacation flirtation." But just because summer is over doesn't mean Lucy and Jesse are over, too.

In this coming-of-age romance, April Lindner perfectly captures the highs and lows of a summer love that might just be meant to last beyond the season.
Description taken from Goodreads. I received an advance copy of this book from the publisher in exchange for an honest review. These opinions are my own.
---
LOVE, LUCY was definitely a really interesting read for me. It was sweet, quick, beautiful and hilarious on separate occasions, but also all at once. This is the first YA book I've read that is set in Italy and it about travel, and I decided to read it as a sort of jumping-off point to see if I would enjoy books like it. There were a ton of things that I loved. The scenery, for one thing. I felt like I truly was with Lucy in her world, finding new places and new people. The beginning was fantastic, but the middle and the end slowly started to droop down for me.
As for characters and the decisions they made, that was an entirely different story. I was unable to connect with many of the supporting characters and at times, I felt like Lucy was a real jerk. I couldn't find any sense of chemistry between the two love interests, and I felt like many of the characters were selfish, with no endearing traits. I didn't think that Jesse and Lucy were real at all, their actions later on in the book only adding to that fire. I had hoped to see more from them, but it just wasn't enough.
It really was the world-building and the brief moments of sweetness and thoughtfulness that made me able to enjoy this story. It's slightly slow paced, but overall it has a good tone to it.
All in all, I wasn't quite sure what to think about this story. I had expected a lot more from it, and I had believed that this would be some sort of light romance that was well-thought out, under the backdrop of Italy. LOVE, LUCY started out well, and I continued to love the descriptions and many of the story snippets to it–but I was disappointed by it. I was just missing the heart and the characters behind this story the entire time I was reading it, and the plot really meant nothing to me.
I would recommend this for fans of April Linder and books set in other countries, but overall it isn't one of my favorite contemporary picks. It is a quick read, and if you can get past the personalities and deicisons of some of the characters it really isn't a bad one–but this book just didn't work for me. I would recommend April Linder's CATHERINE and JANE as well as Kristin Rae's WISH YOU WERE ITALIAN instead. 1.5 stars.
Much thanks to Novl and Little, Brown Books for the chance to read this!
pg count for the hardback: 304