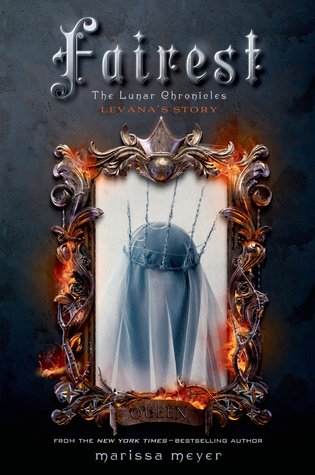 ---
Hi everyone! Thanks for checking out The Silver Words. The Silver Words came into being as the .com version of a blog I worked on for about a year and a half called RealityLapse under WordPress.com. Because of this, you might see the terms RealityLapse, RL or improperly formatted code in my old posts. If you see this, please give me a heads up! I will be working on The Silver Words for the next few months so little things are likely over time. :) But for now, I HAVE A NEW BLOG, and I'm so happy that today I can share with you the awesome experience I was able to have at the Marissa Meyer launch party for her prequel to the Lunar Chronicles series, FAIREST.
The FAIREST Launch Party
Marissa started out wearing an amazing crown like the one seen on the cover of FAIREST.
After thanking people for helping to make the launch and FAIREST happen, she announced that she turned in WINTER to her editor the evening before, and it's a long book (which I will not mind at all :D). Then she moved on to FAIREST and what it's about.
"FAIREST is a prequel to the [Lunar Chronicles] series all about Queen Levana. It takes place approximately 17 years before the start of CINDER at a time in which the king and queen of Luna have just been brutally assassinated by an ungifted Lunar who is not happy with their rule. That has left their oldest daughter, Channery, to take the throne. However, Channery is much more concerned about her personal romantic conquests than she is about ruling. Channery is now taking the throne.

Channery has a reputation of being the most beautiful queen Luna has ever known, but she also has a reputation of being very cruel. And most of that cruelty over the years has been focused on her little sister, Levana. Well, Levana also has a reputation, and that is the reputation of being Luna's ugly little princess. She has been mocked and tormented her whole life.

However, there is one person who has always shown her kindness, and that is a palace guard named Everett Hale. Over time, Levana has developed a humongous crush on him and she is convinced that they are meant to be together. However, there is one little problem standing in her way, and that is that Everett is already married. And unfortunately, for poor Levana, on top of that, Everett and his wife are currently expecting their first child.

The story from that point takes about ten years in which we see Levana's rise to power to become the evil queen that we know in CINDER while simultaneously showing this kind of downwards spiral into becoming more crazy and more insane and developing many of the cute quirks that we get to see in the book like wanting to rule Earth really badly and other exciting things like that."
That's the basic plot of FAIREST, and as Marissa talked more about it, she revealed that FAIREST was actually a surprise to everyone–including herself. Marissa talked about why WINTER was pushed back because of FAIREST, but how she had to write FAIREST in order to write WINTER.
"One day, a little over a year ago, I was working on WINTER. I was in the second draft of WINTER and I kept hitting this roadblock. I kept running into this seams where I couldn't push past them and I realized that the reason why it was giving me so much trouble was because I still didn't know enough about Levana and her relationships, particularly with Princess Winter, and her niece, Princess Selene.

After getting stuck enough times, I thought 'you know what? I really need to delve more into Levana's character and I'm going to make this work and try to make this authentic.' I took a break from WINTER and I nailed out Levana's story in about nine days. It was one of the few things that just came pouring out of me. Sometimes writers talk about this crazy thing that happens where the words just come."
She shipped it off to her publisher and that became FAIREST. There was also a fantastic costume contest and a few questions from the audience that Marissa answered. AND A NEVER-BEFORE HEARD SCENE FROM WINTER. I know many of you might hate Jason, but JASON AND WINTER. SO much excitement for WINTER. (Note: The scene isn't from the back of FAIREST, which includes the first three chapters of WINTER. BUT WINTER TEASERS. THEY'RE THERE).
Interview Questions
 Is Cinder in FAIREST? 
"Cinder is in FAIREST. I'm not going to say in what regard because it sort of spoils something if anybody in the audience hasn't read CINDER yet. Probably most of you have, but yes, she is. Also in FAIREST, we get to see Winter, we get to see Jason and there's a hint of Kai. They're like chibi."
What advice would you give to aspiring authors who want to publish their own books? 
"That's a great question. There's so much advice out there for aspiring writers. I think the two things you're going to hear over and over and over again are to write as much as you can and read as much as you can. The reason people say that is because they really are the top two ways that you can become a better writer. Nothing is ever going to change that.

The other thing I like to tell aspiring writers is something I wish someone would've told me when I was a teenager and wanted to grow up and become a writer. That is that it is okay to take your time with something. I was very, very impatient. When I wasn't published by the time I graduated from high school, I seriously thought I was a failure. Like 'what is your problem, Marissa? Get with the program.' But I was still learning, and I was writing and I was developing my craft and learning my voice and all of these things. And so it takes time to do those things and lean how to become a writer. I also think it's so important to take the time to fall in love with it, to write the things that you are passionate about, because once you get into learning about publication, and the market and the industry, it very much changes your mindset about things. I think your passion for storytelling has to come first."
Do you have any advice for when it comes to writing romantic relationships and stuff like that? 
Pretty much my favorite part about writing is writing romantic relationships. Like sometimes I have to put in an action scene and I'm like 'Well, I really just want kissing!'

As far as advice, I think that there are going to be two groups: external and internal ways that you create suspense. You don't necessarily have to have both, but I think it can be helpful to have both. Internal are going to be things about the characters like prejudices that they have. In SCARLET, you have Scarlet and then you have Wolf. Internally, they have been raised in different background and have different ways of looking at the world. Wolf has been raised to have very violent tendencies, which is the opposite of Scarlet, who comes from a loving background. She is not impressed by his violent tendencies at all, so they get off to a very rocky start. You have this instant tension between them. Then as they get to know each other, they're brought together. I think that you have to have something that keeps them apart from the beginning because there has to be something that they learn together.

Then external things. Again with Scarlet and Wolf, Wolf has expectations from the people who are controlling him and it's very difficult for him to break out of that life. It's something that kind of comes between them that they have to work on. Then with Cress, there's physical separation as well.
Are you ever going to make a food blog of all the wonderful foods that are in Cress? 
That's a great idea. I actually have a weird obsession with food descriptions in books. My favorite part of fantasy novels is when they have a feast for the king's table and it just goes on for pages and pages and I love that. I actually did [make a food vlog] a couple of years ago. Me and my friends filmed a vlog (video blog) in which we cooked shrimp wontons, which are one of the foods that get eaten in the book. It was a lot of fun to do but it got like two hits on YouTube, and I was like 'okay, I guess I won't do anymore'. But it was a lot of fun. One of those hits was my dad.

I actually love writing about food. In CRESS, I wrote the beginning with the wedding planners describing the feast they're preparing for the wedding. The original draft of that was like three pages long. I had it all planned out course by course with all sorts of flavors coming from all parts of the Commonwealth. Then my editor was like 'You just talked about food for three pages. Plot, Marissa, plot.'"
Do you have a favorite not-very-well-known fairy tale? 
Specifically, not very well known. I love the story of Yeh-Shen, which is a Chinese fairy tale. It's believed to be the very first recorded Cinderella story, and I love it because it's the first recorded Cinderella story and nobody else knows about it. I just think that's really interesting. It was written in the 9th Century in China and so it's like 800 years before Charles Perrault wrote the story, but if you read them it's totally the story of Cinderella. They're almost identical, so I think that it's really cool to see how fairy tales can span generations and cultures and whatnot.

Another story, I don't know why, but I always loved the story of Bluebeard. It's about a serial killer husband and I don't know why it appeals to me. I just always thought it was kind of a cool story.
I don't know if you've been reading lately but I was wondering if there were any books that you've read recently that you would recommend? Or maybe just some all-time favorites? 
I set myself a goal last year to read 100 books, and I did it. I literally finished the last book at midnight on New Year's Eve. I was like this is happening. Since then, now there are babies in the house, I haven't been reading a whole lot. Sad. But recent favorites.

Oh gosh. I am obsessed with this trilogy. One's out right now, it's called THE WINNER'S CURSE. You all need to go check it out. THE WINNER'S CRIME will be out later this year. I was lucky enough that I got to read THE WINNER'S CRIME early. It's a fantasy-esque series except there isn't magic, but there's this world in which the people have been taken over and have been forced to become slaves. One of the daughters of the conquerers purchases a slave for her household and she and him start to fall in love. Then there's this whole plot of a stirring revolution and the characters are just great, the characters are amazing, I love love these books and I'm dying for the last one. You all know what that's like.
---
The release day party was AMAZING. I loved being able to see Marissa and it was a lot of fun. There are some pictures below, and I am giving away a signed copy of FAIREST in the Silver Words Week giveaway below! Be sure to enter. There will also be a review of FAIREST soon!
Connect with Marissa:
Ξ Twitter Ξ Facebook Ξ Website Ξ Goodreads Ξ
About Marissa:
Marissa Meyer is the New York Times-bestselling author of The Lunar Chronicles. She lives in Tacoma, Washington, with her husband and three demanding cats. She's a fan of most things geeky (Sailor Moon, Firefly, any occasion that requires a costume), and has been in love with fairy tales since she was a child. She may or may not be a cyborg.