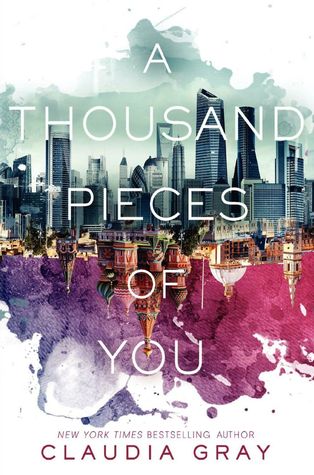 Every Day meets Cloud Atlas in this heart-racing, space- and time-bending, epic new trilogy from New York Times bestselling author Claudia Gray.

Marguerite Caine's physicist parents are known for their radical scientific achievements. Their most astonishing invention: the Firebird, which allows users to jump into parallel universes, some vastly altered from our own. But when Marguerite's father is murdered, the killer—her parent's handsome and enigmatic assistant Paul—escapes into another dimension before the law can touch him.

Marguerite can't let the man who destroyed her family go free, and she races after Paul through different universes, where their lives entangle in increasingly familiar ways. With each encounter she begins to question Paul's guilt—and her own heart. Soon she discovers the truth behind her father's death is more sinister than she ever could have imagined.

A Thousand Pieces of You explores a reality where we witness the countless other lives we might lead in an amazingly intricate multiverse, and ask whether, amid infinite possibilities, one love can endure.
Description taken from Goodreads.
---
There was not a single page in this book where I even thought about not reading on. In fact, I should have been writing reviews and working on the blog and other miscellaneous work way before now, but I. Could. Not. Stop.
I enjoyed A THOUSAND PIECES OF YOU from the very first page. First impressions included my general like of the main character and point of view from which this story is told, Marguerite, and I also really appreciated the way this book gets started right from the very beginning. There's no time wasted and the tone as well as the pacing is pitch-perfect.
As time went on, I began to really like the other characters as well, and Marguerite's relationships with them. Warning: There is a love triangle in this book. The good news is that it's a reasonably well-done love triangle. I'm not saying that the romance was my favorite part of the book (it really wasn't, in the best possible way), but I am saying that it's a love triangle that was entertaining and I didn't mind. Ultimately, I loved the way it ended as well.
But as for the actual other points (or should I say vertices -.- …..) of the love triangle, Theo and Paul. Theo is reckless, ambitious and fun-loving while Paul is awkward, never really knows what to say and when he does say it it comes wrong 99% of the time. Paul sounds like a real charmer from the way I describe him, but he is very endearing throughout the course of the book. Because of the rep that Theo has, I wasn't able to fully appreciate him until the final twist was revealed, but I will throughly enjoy rereading this book and really seeing his character.
I fell in love with every single character in this book, and while I think the romance was spot-on, I felt really bad for the boy who didn't end up with Marguerite (luckily, according to this book, he does in another world).
And that's where the brilliance of this book lies. World-building. I'm a sucker for fantasies, but a great world will always impress me, as will time travel. With this book, I am now adding parallel worlds to my list of always-be-impressed-by. No, I'm not saying this is some of David-Mitchell-esque to-be-impressed-by, and I am in no way (in any world) someone smart enough in science to say Gray is realistic in her portrayals of what parallel world jumping and schematics could be like, but it was enough for me, and I was able to believe it. Gray covers all her bases very well and the physics of this book is really fun to learn about without being completely overwhelming.
World-building combined with the complexity of the characters is what truly impressed me in A THOUSAND PIECES OF YOU. There are lots of twists and turns to this book, all of which I never saw coming and are not cliched (thank God). A THOUSAND PIECES OF YOU is thrilling right up until the very last page, coming to an ending that is satisfying and not too anticlimactic. For all the places where this book could've gone wrong, fortunately, I live in a world where it didn't.
All this gushing makes it sound like there was nothing wrong with the book, which there was. Despite how much I loved the ending, I wanted to know more about what happens with Triad. I didn't entirely agree with what happened in Russia. I thought that the beginning went in circles a few times, repeating a few points over and over, for several chapters.
It wasn't enough to make me not love the book though. I think A THOUSAND PIECES OF YOU is amazing in it's entirety, and I completely agreed with the decisions Gray made throughout the book. Important things happen in each world Theo, Paul and Marguerite travel to, and I enjoyed every word.
I will definitely be checking out Gray's other books and her books to come. This book is a series, a fact that I am currently rejoicing in and mourning, because I liked this book so much on it's own and believed it to be a stand-alone until about five seconds ago, but MORE OF THIS WRITING. I need it.
For now, I think it's safe to say that the me in this world loves the A THOUSAND PIECES OF YOU here. It's January 6th as I'm writing this. 6 days into 2015 and I've already found one of my favorite books of the year. 4.8 stars. (Very well may get booted up to 5).
pg count for the hardback: 368
Series: Firebird #1