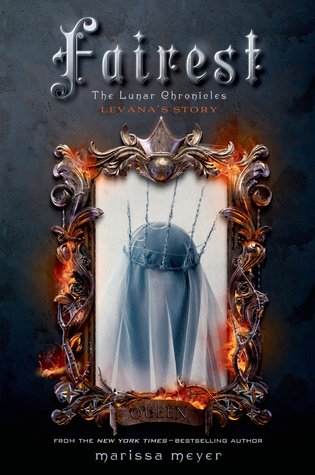 In this stunning bridge book between Cress and Winter in the bestselling Lunar Chronicles, Queen Levana's story is finally told.

Mirror, mirror on the wall,
Who is the fairest of them all?

Fans of the Lunar Chronicles know Queen Levana as a ruler who uses her "glamour" to gain power. But long before she crossed paths with Cinder, Scarlet, and Cress, Levana lived a very different story – a story that has never been told . . . until now.

Marissa Meyer spins yet another unforgettable tale about love and war, deceit and death. This extraordinary book includes full-color art and an excerpt from Winter, the next book in the Lunar Chronicles series.
Description taken from Goodreads.
---
Wow. Levanaaaaaaaa.
Well, this story is messed up in just about every single psychopathic way you can imagine if you've read even a single Lunar Chronicles book. Let me start out by saying that rapist can be added to the list of Levana's offenses. In the Lunar Chronicles series, Levana's known as a character who uses glamour to enhance her power, but in this case she uses it to sway the emotions of Evret Hale, a guard who has been the only one to ever show her kindness. Kind of spoilery, but it's something I really would've wanted to know before I started reading FAIREST.
That said, I would read it all over again exactly the same way I read it, and I will be reading it again. It's not very graphic, but it's clear the moves Levana makes in this story, and at all times I wanted to defend her or yell at her. There are so many points in this story where I could clearly see Levana on a downward spiral, and that's part of why I love this book so much. Her descent into the person she becomes in FAIREST is believable and, as someone trying to write my own villain's story right now, I really appreciated FAIREST.
Everything fits right into place after reading this book, and mad props to Marissa Meyer once again for spinning these retellings as amazingly as she does.
Another reason why I ended up liking FAIREST as much as I did, despite the fact it has some pretty weird/creepy/dark elements is because of how well it shows Levana's inner-conflict. She doesn't start out dark or insane, she becomes that way over the course of time. There are many moments where I could see her, in a different world, making different decisions and ultimately breaking out of the circumstances that happen.
One thing I didn't like about Levana that bothered me the entire story is that, even though Levana isn't quite as naturally destined for trouble as Adelina in THE YOUNG ELITES by Marie Lu, FAIREST could very well be seen as Levana's 222 page pity party.
And when she doesn't get her way, she rapes a guy. Repeatedly. Because she's in lurveeeeeeee with him.
Somehow, I fail to sympathize with that when it's put that way.
I realize I'm making massive understatements here, and I do sympathize with Levana and her story, but I really wanted her to be something more during FAIREST. Overall, FAIREST wasn't a disappointment. In fact, I was pleasantly surprised in many ways by it. It was Levana's my-life-is-so-sad attitude that really got to me, and when the one person in her life tries to reach out to her, she drives him away, but for understandable reasons.
I'm still conflicted about what ended up happening over FAIREST because of that, but I did really enjoy the book, I loved Levana's descent into the raging terror we begin to see in CINDER and I feel like I understand her a lot better now. 3.8 stars.
My recap of the FAIREST launch.
pg count for the hardback: 222
series: The Lunar Chronicles #0.5