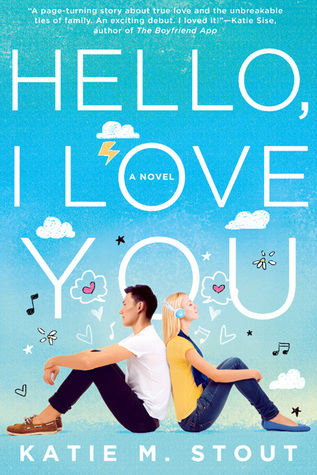 A teen escapes to a boarding school abroad and falls for a Korean pop star in this fun and fresh romantic novel in the vein of Anna and the French Kiss.

Grace Wilde is running—from the multi-million dollar mansion her record producer father bought, the famous older brother who's topped the country music charts five years in a row, and the mother who blames her for her brother's breakdown. Grace escapes to the farthest place from home she can think of, a boarding school in Korea, hoping for a fresh start.

She wants nothing to do with music, but when her roommate Sophie's twin brother Jason turns out to be the newest Korean pop music superstar, Grace is thrust back into the world of fame. She can't stand Jason, whose celebrity status is only outmatched by his oversized ego, but they form a tenuous alliance for the sake of her friendship with Sophie. As the months go by and Grace adjusts to her new life in Korea, even she can't deny the sparks flying between her and the KPOP idol.

Soon, Grace realizes that her feelings for Jason threaten her promise to herself that she'll leave behind the music industry that destroyed her family. But can Grace ignore her attraction to Jason and her undeniable pull of the music she was born to write? Sweet, fun, and romantic, this young adult novel explores what it means to experience first love and discover who you really are in the process.
Description taken from Goodreads.
---
I wanted to learn more about HELLO, I LOVE YOU, and so I had Katie M. Stout on the blog to talk about reader reactions and what she does and doesn't want people to take away from her story. I have my own doubts, hopes and expectations for it, and I'm even more excited for HELLO, I LOVE YOU after reading her guest post and This or That. Check it all out below!
What I Don't Want Readers to Think Before (or After) Reading My Book
I love KPOP. I also love Korean dramas. I'd guess that's pretty obvious, considering I wrote a book based on my love for both. I've also been open about the fact that my debut, Hello, I Love You, was inspired by a number of dramas, like Dream High, Heartstrings, and You're Beautiful.

But I feel like there's a bit of a misconception surrounding my book: that's it's only for KPOP and Kdrama fans.

At its core, Hello, I Love You is about hope. It's about first love and the bonds of family–and culture shock and grief and forgiveness. It also happens to be wrapped up in a shiny KPOP packaging.

I strived really hard to make the Korean setting and the world of KPOP come alive in the book, and I don't think the story could have worked if it were set somewhere in the Western world. That's actually one of my favorite aspects of it.

But!

Just because the book has KPOP in it, just because the characters watch Kdramas and talk about sasaeng fans, that doesn't mean my readers need to know anything about that world–or even like it.

One of my goals for the book (other than writing a good story) was for it to be an introduction to KPOP for people who maybe don't know anything about it. My main character, Grace, starts the book with zero knowledge about biases, the difference between the

2AM and 2PM

that don't appear on clocks, or the fact that Rain is so much more than water falling from the sky. I wanted my readers to discover KPOP along with Grace, even when she has some hesitations about it.

And honestly, even when readers finish the book, I don't want them to feel like they have to like KPOP. It's not required. I won't reach through the interwebs and shake them until they love T-ara as much as I do.

What I do hope happens is that readers who didn't know anything about KPOP before the book finish it with a more open mind. I hope it maybe gets them interested in a new type of music or a culture different than their own, or maybe just opens their eyes to new things in general.

So, no, you don't have to like KPOP before (or even after) you read my book.

…but I sure hope you do. :)

And just to give you more reason to explore KPOP–or, for my fellow KPOP lovers, a reason to dance–here's a little Jay Park:
This or That?
1. G-Dragon or Taeyang: Musically, G-Dragon…but Taeyang is awfully pretty.
2. New KPOP or old KPOP: New, for sure. Even if that makes me sound like less of a "true fan." ;-)
3. iKon or Winner: Winner. Love their song "Empty"!
4. YG, JYP, or SM: I'd have to go with S.M. Entertainment, even though JYP has Miss A and Rain(!!). I mean, S.M. has Girls' Generation, the ultimate KPOP girl group!
5. Super Junior or Girls' Generation: GG is my favorite KPOP band ever, so…sorry, Super Junior.
6. GOT7 or BTS: BTS
Pssst. For all you non-kpop fans out there, just keep in mind one thing: 2PM is better than 2AM.
So looking forward to this story now, and I hope you are too. Comment below or tweet me and Katie at
@katiemstout
or
@elimadison2019
on Twitter about what you think of HELLO, I LOVE YOU!
Connect with Katie:
Hello! I'm Katie, and I write Young Adult books. My debut is called
Hello, I Love You
, and it releases with St. Martin's Press on June 9, 2015!
I'm from Atlanta, Georgia, but I have a passion for travel, which has taken me all over the world. I've lived in Thailand and England, and I've visited five continents. I love Southern sweet tea and English sticky toffee pudding, and I work in social media and marketing for a Christian charity.