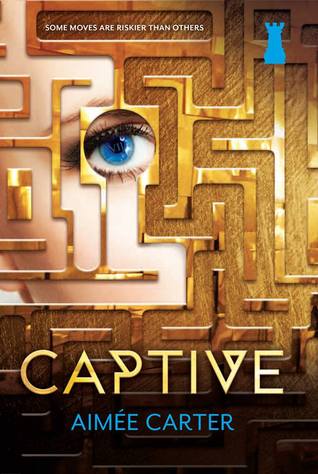 For the past two months, Kitty Doe's life has been a lie. Forced to impersonate the Prime Minister's niece, her frustration grows as her trust in her fake fiancé cracks, her real boyfriend is forbidden and the Blackcoats keep her in the dark more than ever.

But in the midst of discovering that her role in the Hart family may not be as coincidental as she thought, she's accused of treason and is forced to face her greatest fear: Elsewhere. A prison where no one can escape.

As one shocking revelation leads to the next, Kitty learns the hard way that she can trust no one, not even the people she thought were on her side. With her back against the wall, Kitty wants to believe she'll do whatever it takes to support the rebellion she believes in—but is she prepared to pay the ultimate price?
Description taken from Goodreads.
---
There should be a flowchart for this book, because (at least the way I see it) things are very yes-and-no. If you like sequels that don't suck, go on. If you like new places and new characters, go on. If you like thrills and revelations and… useless love interests, go on.
Seriously.
Basically the only thing I had a problem with in CAPTIVE was the relationships between the characters and sometimes Kitty herself. Benjy was my favorite in PAWN, but if you read CAPTIVE you can see right away that things are very different than the book before. Yeah, Benjy's pretty much useless. Like he has a blazing red sign on his forehead throughout the entire book blaring USELESS. Knox is really the only one here, which relieved me because I couldn't take another love triangle at the time, but was also disappointing because I felt like some of the major moments in PAWN were wasted.
Then there's the Who Can You Trust? game.
If this book was a TV show, then 70% of the show would be a old bald guy spinning a wheel with character names on it while a girl 30 years younger than him holds a fishing rod fishing for yes and no answers in a pool of quicksand.
That's how I felt throughout this entire story.
In a way, I feel like it's a good thing. I think that it really displayed the frustration that Kitty and Knox were going through and the struggles of the rebellion as well. As for the plot, I enjoyed the plot… once it got going. It did have a bit of a slow start, but it was hugely entertaining, revealing and amazing in the middle and the end. But the entire time one of three things is happening (often times more than one).
Kitty is trying to help.
Kitty is failing at helping and/or ruining the plans that would be helpful if SHE WASN'T MESSING THEM UP COMPLETELY.
The character you were sure was on the good side is actually on the bad side, or vice versa.
It's incredibly frustrating, and I appreciate it normally, but only to a certain extent. It just didn't work for me in this book, and at the end of the story I felt drained and I still didn't know who to trust or where to go.
Despite these things, I had a great time with this book. The highs were intense and the lows were intense. There were so many things to keep track of I never really felt bored at any time, and I kept coming back for the shocks and the action/adventure.
As for Kitty, she grows a lot during this story–and if she improves as much in the next book as she did in CAPTIVE, I will HUGE props to Aimée Carter, because this could turn out to be one of the most long term and impressive character developments I've seen. Not my favorite, but impressive that that could turn into this. As for Kitty and Knox… well, they're Kitty and Knox. There's lots of good world-building, horror, fascination and character development in this book, and that's what saved it for me. 3.5 stars.
pg count for the hardback: 288
Series: The Blackcoat Rebellion