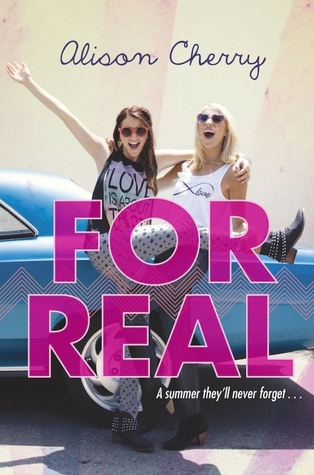 No parents. No limits. No clue what they're in for.

Shy, cautious Claire has always been in her confident older sister's shadow. While Miranda's life is jam-packed with exciting people and whirlwind adventures, Claire gets her thrills vicariously by watching people live large on reality TV.

When Miranda discovers her boyfriend, Samir, cheating on her just before her college graduation, it's Claire who comes up with the perfect plan. They'll outshine Miranda's fame-obsessed ex while having an amazing summer by competing on Around the World, a race around the globe for a million bucks. Revenge + sisterly bonding = awesome.

But the show has a twist, and Claire is stunned to find herself in the middle of a reality-show romance that may or may not be just for the cameras. This summer could end up being the highlight of her life… or an epic fail forever captured on film. In a world where drama is currency and manipulation is standard, how can you tell what's for real?
Description taken from Goodreads.
---
Of course there are absentee parents. You can't seem to have a good novel set in the real world with them, so let's just leave them out with no real focus on them for more than one second. Ehhhhhhh. But whatever.
Moving on.
You know, I'm not really sure to what to say about this book. The only thing this book is really about is the two sisters, Miranda and Claire, and it's not even really about their relationship. Everything just kind of falls apart.
FOR REAL tries to be about all these different things, and it just doesn't work. It tries to look at the romance, but the romance flops and twists and jumps… then does a faceplant. It tries to look at the bond between sisters, and family, and it fails. Epically. Not only is the bond between the sisters terrible during the entire story and it seems more like they hate each other than anything else but nothing really improves by the end of the book.
But that could be partially due to the fact that I think caring about someone in the long term is less about grand gestures and more about the everyday things.
FOR REAL also tries to be about the great, gigantic reality-tv show. Yeah.. not really. If you want a reality tv show, go for SOMETHING REAL by Heather Demetrios or YOU LOOK DIFFERENT IN REAL LIFE by Jennifer Castle. Of course, you could always head down the gritty reality tv show route, and that goes straight to REALITY BOY by A.S. King. If you just want celebrity life in general, I would point you to Jen Calonita's SECRETS OF MY HOLLYWOOD LIFE series.
I really couldn't see any emerging themes throughout this book. The writing and the pacing was fine, and the drama was really the only thing that kept me going. The epilogue is incredibly anticlimactic as well as disappointing. This book wasn't too bad while I was reading it, but it's not something I would read again or recommend. 2 stars.
pg count for the hardback: 304