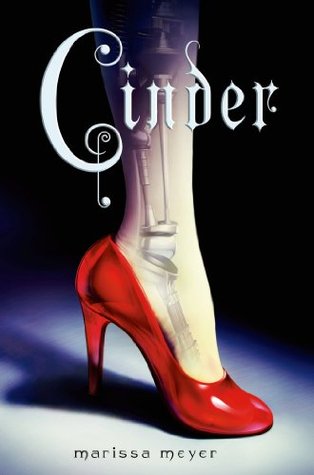 Humans and androids crowd the raucous streets of New Beijing. A deadly plague ravages the population. From space, a ruthless lunar people watch, waiting to make their move. No one knows that Earth's fate hinges on one girl.

Cinder, a gifted mechanic, is a cyborg. She's a second-class citizen with a mysterious past, reviled by her stepmother and blamed for her stepsister's illness. But when her life becomes intertwined with the handsome Prince Kai's, she suddenly finds herself at the center of an intergalactic struggle, and a forbidden attraction. Caught between duty and freedom, loyalty and betrayal, she must uncover secrets about her past in order to protect her world's future.
Description taken from Goodreads.
---
I wanted to reread the entire Lunar Chronicles series before WINTER came out cause, you know,
And so is Game of Thrones SEASON 5! Both are sure to be amazing, but I wanted to go back to the beginning of GOT The Lunar Chronicles, where it all started with a replacement foot. And it is so nice to be able to see everything come into place all over again, to know the characters will go on and re-mourn but also re-celebrate their victories and losses. Besides, can we talk about the time when it was just Kai and Cinder?
And I never quite put my finger on it, but there's something about old Dr. Erland that is endearing to me. I didn't like him at all in the beginning, but he slowly grew on me and is now one of my favorite characters of CINDER, as he was in this book. Then there's the revelations and the descriptions and the world-building and the ideas and book inspiration and
Okay. Reasonable sentences.
*takes deep breath*
Point is, CINDER is amazing and, in my mind, will always be a book I come back to. I am so glad that I reread this story, and after reading FAIREST, I can really see how deep Marissa Meyer goes into her writing and her character.
I really wanted to be able to give this book 5 stars, but something about the abrupt ending fell a little short for me. Maybe this year, one of the books after it will earn that title :D. If you haven't read these stories, I would strongly suggest that you do. If you're just opposed to the whole futuristic, science, robot thing for whatever reason, I would then direct you to Jackson Pearce if you want to try fairy tale retellings.
The biggest point I wanted to make in this review though was that you should not read FAIREST before CINDER. Trust me on this. Especially if you're someone who reads a lot like many book bloggers tend to do, I would not read FAIREST before CINDER because it ruins the ending of the book and the biggest revelation in CINDER.
Sometimes, I read prequels before I read the actual story. Please, for the sake of this series and your enjoyment of it, do not read FAIREST before CINDER. Read the stories as they were published in order. If you do, I sincerely hope that you enjoy this story, not only because Marissa Meyer will have converted yet another to the dark side, but CINDER is incredibly well-written and you're in for an amazing ride with this series. Highly recommended. (If you have read CINDER and this series, I would recommend STITCHING SNOW by R.C. Lewis to hold you over). 4.5 stars.
pg count for the hardback: 390
Series: The Lunar Chronicles