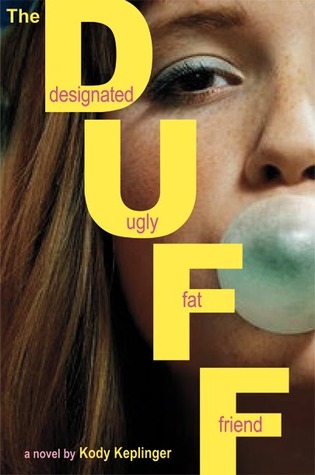 Seventeen-year-old Bianca Piper is cynical and loyal, and she doesn't think she's the prettiest of her friends by a long shot. She's also way too smart to fall for the charms of man-slut and slimy school hottie Wesley Rush. In fact, Bianca hates him. And when he nicknames her "the Duff," she throws her Coke in his face.

But things aren't so great at home right now, and Bianca is desperate for a distraction. She ends up kissing Wesley. Worse, she likes it. Eager for escape, Bianca throws herself into a closeted enemies-with-benefits relationship with him.
Until it all goes horribly awry. It turns out Wesley isn't such a bad listener, and his life is pretty screwed up, too. Suddenly Bianca realizes with absolute horror that she's falling for the guy she thought she hated more than anyone.
Description taken from Goodreads.
---
It's no great secret that I wasn't a huge fan of Kody Keplinger's A MIDSUMMER'S NIGHTMARE. It wasn't that the premise of the book itself was bad, the execution just didn't work at all for me. It was the exact same thing with THE DUFF.
In the beginning, for some reason, I thought things were going to be different with THE DUFF. Hey, it's a movie, I thought. It would be cool to watch it with some other bookish friends, so I decided to read the book first. No. Just no. The book didn't work for me, the #1 reason being Bianca.
In the first few chapters, I loved Bianca. She's cool, she's real, she's cynical. She sees past what society is okay with, all the strobe lights and the whatever. It doesn't matter to her. I appreciate that.
"I pushed my way past the loud jocks and the smooching couples–PDAs are so disgusting–and headed for the science hallway. It took only a few minutes to get to my locker, which, like the rest of the fugly school, was painted orange and blue."
Perfectly, those are my high school colors. Mad props to Keplinger for that perfect statement right there.
In fact, Bianca is pretty much perfect for the first fifty pages. Then things started to go downhill. Bianca's family issues start, and she hooks up with Wesley in order to distract herself. First of all, not only am I morally opposed to this whole idea, but BIANCA IS TOO. She scorns girls who are constantly looking for guys, scorns the girls who dress tightly and do PDA in the hallways and she even 'protects' her best friends from being with random, jerk-off guys.
And she ends up with one about 70 pages into the book. Greatttt.
The guy isn't even cool. Mr. Wesley Rush? He's a player. Massive player. Who makes fun of Bianca and then pretends to care about her. Of course though, she doesn't let him in. Or anyone, for that matter, because she's just that way. She should be strong, right? Conceal, don't feel, and kill me now.
Yeah, that only works if you've got white hair and the voice of Adele Dazeem.
I'm not saying that girls, and guys, don't tend to hide their feelings from other people, especially people they care about at times. However, I'm sick of using that as an excuse to not tell anyone anything and releasing your frustration by going into a enemies-with-benefits situation like the way Bianca does.
Not giving away any spoilers, but the way Bianca continues to act throughout this story just frustrates me. She's a complete hypocrite who's actually, perfectly fine one second then throwing herself at Wesley all over again at the next, then saying they can't do it anymore, then going back again through the vicious cycle.
The next issue was writing. Keplinger's writing feels really choppy to me, in a way where the transitions between events and even between scenes just lags or jumps too much.
To be fair, as time goes on, there are reasonable and non-reasonable elements to why Bianca gets closer to Wesley. Wesley can be a pretty cool guy at times, underneath his Haverford exterior, if you get what I mean.
I am probably going to still watch this movie, considering it does seem quite a bit different from the book and the writing issue won't matter as much, but this isn't a book I would recommend and it just didn't work for me. 1 star.
pg count for the hardback: 280