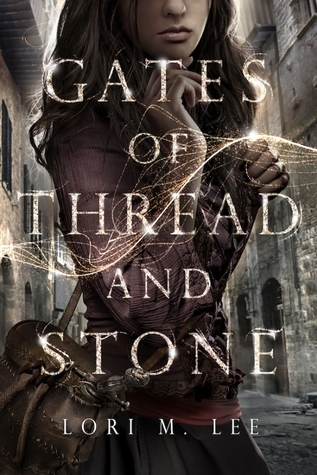 In the Labyrinth, we had a saying: keep silent, keep still, keep safe.

In a city of walls and secrets, where only one man is supposed to possess magic, seventeen-year-old Kai struggles to keep hidden her own secret—she can manipulate the threads of time. When Kai was eight, she was found by Reev on the riverbank, and her "brother" has taken care of her ever since. Kai doesn't know where her ability comes from—or where she came from. All that matters is that she and Reev stay together, and maybe one day move out of the freight container they call home, away from the metal walls of the Labyrinth. Kai's only friend is Avan, the shopkeeper's son with the scandalous reputation that both frightens and intrigues her.

Then Reev disappears. When keeping silent and safe means losing him forever, Kai vows to do whatever it takes to find him. She will leave the only home she's ever known and risk getting caught up in a revolution centuries in the making. But to save Reev, Kai must unravel the threads of her past and face shocking truths about her brother, her friendship with Avan, and her unique power.
Description taken from Goodreads.
---
There's something called randomly meeting a new major character for no real reason in the middle of a tv series, and it doesn't work (usually). It doesn't work with books either (usually). And this story is not an exception.
If you're a person who loves fast-paced books, then you should not read GATES OF THREAD AND STONE. Sure, it has a beautiful cover. Sure, it has a kidnapped brother. Sure, it has premise.
Here's what throws me off: This watches like one of those tv shows where each episode is about a separate, unrelated adventure. For those of you anime people, think Poyopoyo or Chi's Sweet Home. Heck, you could even think Sket Dance or Gintama. For those of you non-anime people, think along the lines of Spongebob Squarepants or maybe even How I Met Your Mother if the mother wasn't involved.
In the beginning chapters, Kai seems pretty focused on finding Reev, but as the story goes on, that plot point seems to disappear little by little. The pace slows in ways you would never think a pace could slow, and the only thing that connects all of these completely different chapters is Reev and Kai's undying love for him despite how she pretends not to love him.
Kai keeps on meeting new people, going new places, finding new things, and after awhile I began to get the feeling that nothing was really happening. 
I know, Loki, I know.
I couldn't do this story. Maybe for contemporary fans or people who can deal with a pretty slow pace, this will be a good read, and there were a few enjoyable scenes (beginning was great), but for the most part, I wouldn't recommend this. I would recommend BLOOD RED ROAD for people who thought that the whole girl-going-after-her-kidnapped-brother thing would be cool (I thought it would). 2 stars.
pg count for the hardback: 335
Series: Gates of Thread and Stone