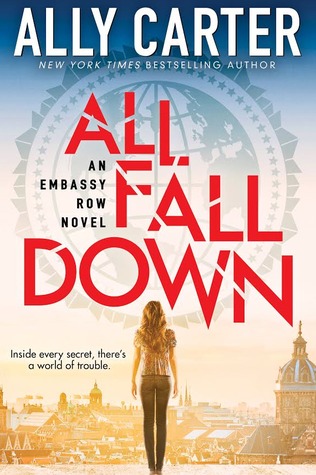 A new series of global proportions — from master of intrigue, NEW YORK TIMES bestselling author Ally Carter.

This exciting new series from NEW YORK TIMES bestselling author Ally Carter focuses on Grace, who can best be described as a daredevil, an Army brat, and a rebel. She is also the only granddaughter of perhaps the most powerful ambassador in the world, and Grace has spent every summer of her childhood running across the roofs of Embassy Row.

Now, at age sixteen, she's come back to stay–in order to solve the mystery of her mother's death. In the process, she uncovers an international conspiracy of unsettling proportions, and must choose her friends and watch her foes carefully if she and the world are to be saved.
Description taken from Goodreads.
---
I was really excited for ALL FALL DOWN. Maybe not as excited as many other Ally Carter fans, because I'm not the hugest fan of her work, but I still was anxiously awaiting the release of this book and was really disappointed when I heard the reviews of some of the bloggers that I know really love her work.
Here's what's good that remains great throughout Carter's work:
The guys. The guys are funny, dependable and provide some much-needed comic relief at times. They can be a drag sometimes, but it's whatever because for the most part, they're that great best friend character even if they turn out to be the love interest. In this story, Sergei and Noah. I felt like Sergei was built up to become nothing, but Noah takes on a pretty big role in this story.
World-building. Want to know about Embassy Row in a fictional light? This is your book right here.
Writing. Yes.
Yeah, those are actually the three things that made this story good for me. I liked the premise fairly well, and the actual execution of it all wasn't bad. The mystery/thriller elements aren't half as good as Carter's other works, and things are pretty predictable for the most part.
What really set a bad tone for this story is the death and grief. It's overpowering. Just too much in general. Not in a Game of Thrones type of way, but in a way would-she-please-stop type of way. I get it, I feel bad that Grace's mother died, it's horrible. But again and again and again and again she just falls into this almost nauseating spiral of my mother's dead… and there's a way to do that. It works for some stories. I just didn't think it worked for this one.
Then there's the angst. If you wanted more angst from Carter's other books, this is the way to go. And mental illness. I'm not saying I don't enjoy books about mental illness or think they're a bad thing, I just think it felt forced and really misplaced in this story. Not bad, but I would recommend Carter's other books more. For fans of Ally Carter, this story is still well worth a read. 3 stars.
Series: Embassy Row #1