Description taken from Goodreads.
---
I don't even know who I ship the most in this series. Reading this series all over again I'm just conflicted.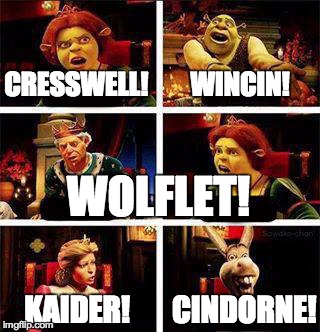 But it has been nice to fall in love with the ships all over again, and the individual characters. I remembered why I hated Scarlet in the beginning of SCARLET, but also why I grew to love her. I remembered my relief when it was made apparent that Thorne and Cinder would not become a thing (sorry, Donkey) and the horrible cliffhangers that Marissa Meyer is able to come up with, because apparently she just loves tormenting the fandom.
I think one of my favorite things about the way that Marissa writes her romances, and something she mentioned in her FAIREST launch, is that there are so many barriers to her romances, and that makes them on the edge of slow-burn. However, it isn't so slow burn that we're just over here dying.
That was something I loved so much about Scarlet's relationship with Wolf, and the way that they clash and eventually come together in the middle of SCARLET. Then there's Cress and Thorne. I didn't love the same thing about them, but I felt like they were just made for each other and when they finally found each other, it was amazing. I thought Thorne was just this cool, funny, kinda comic-relief character in most of SCARLET, but he really grew on me and I grew to appreciate him even more when I learned about his past and the reason why he is the way he is.
Meyer's plot really is genius, and I find myself constantly amazed all over again at her plot twists and the way she capitalizes on situations. The reunion between Kai and Cinder was perfect, and she doesn't believe in the whole fangirling-over-my-love-interest thing that happens in some books.
Instead, we see the vulnerability to every single character and their strengths as well. Each character is incredibly well-rounded and three-dimensional.
Going through these stories makes the impact of FAIREST even more felt because now I fully remember every single evil thing she's done not only to our heroes but to the people she's supposed to watch over. If you haven't already, but you have read the first three official books of this series, I would highly recommend that you read FAIREST. Bump it up to the top of your TBR, because it's well worth a read. Everything falls into place after it, and I even gained the tiniest bit of sympathy for the villain we all know and love (to hate).
It's been great to reread this series, and I can't wait until WINTER! I hear it's somewhere around 800 pages, and really–I have faith that Meyer can pull off the perfect ending. So excited to see more of Wincin and Winter in particular! Also interested to see how Meyer will work with Kai and Cinder rebuilding their relationship. Again, barriers to romance. Love this series, and these books are highly recommended. 4.5 stars.
pg count for the SCARLET (book two in the Lunar Chronicles series): 452
pg count for CRESS (book three in the Lunar Chronicles series): 550