I recently was able to attend the launch of ZEROBOXER by Fonda Lee and interview her before everything happened. It was a great experience and I really enjoyed getting to learn more about Fonda, ZEROBOXER and the ups and downs of the publishing/writing world itself. Below is my full interview, and my review will be coming out on April 24th, but first–a  little bit about the book.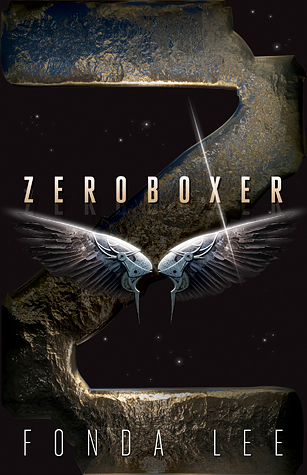 A Sci-Fi Thrill Ride Set in the Action-Packed Sports Arena of the Future

A rising star in the weightless combat sport of zeroboxing, Carr "the Raptor" Luka dreams of winning the championship title. Recognizing his talent, the Zero Gravity Fighting Association assigns Risha, an ambitious and beautiful Martian colonist, to be his brandhelm––a personal marketing strategist. It isn't long before she's made Carr into a popular celebrity and stolen his heart along the way.

As his fame grows, Carr becomes an inspirational hero on Earth, a once-great planet that's fallen into the shadow of its more prosperous colonies. But when Carr discovers a far-reaching criminal scheme, he becomes the keeper of a devastating secret. Not only will his choices place everything he cares about in jeopardy, but they may also spill the violence from the sports arena into the solar system.
Description taken from Goodreads.
---
Interview
Was there anything left out of the blurb of ZEROBOXER that you wanted people to know? 
I think one thing that didn't really go into the blurb but that I wish readers could understand before reading is where the book fits in terms of genre/category. ZEROBOXER is an interesting case because it straddles the line between young adult and adult and it also straddles the line between science fiction and sports, so it's kind of a blend of those areas. It's not pure sci-fi, and I think it's a lot more accessible than a lot of hard science fiction can be. At the same time, it has a lot of crossover appeal between adult and YA. 
It's not really something that you can indicate on the book, because publishers like to have a book in one category. This isn't just YA sci-fi, but it'll also appeal to people who like sports or adults who like excitement and thrilling action movies. 
Are there any books that you're currently reading or that you've read recently that you enjoyed? 
There are a ton of books that I'm either reading or want to read because I'm part of the Fifteeners, so it's hard to keep up with all the debut novels that are coming out. On the adult side, I'm reading this book called the Grace of Kings. It just came out the day before my book came out, so I haven't really gotten to read it, but it's on my to-read list once the book launch is over. It's like epic fantasy, but with Asian flavor to it. It's like Game of Thrones but the Asian version of Game of Thrones. Amongst YA, there's a book that's coming out in the next few months called This Monstrous Thing by Mackenzi Lee that's like a steampunk fantasy, so I'm really excited for that one. 
How has release week been for you? Is there anything you wish you'd known about publishing before your whole publishing journey happened? 
Oh, so many things. So, release week has been really great. It's been interesting because release day doesn't actually mean that much because your book sort of comes out slowly as opposed to one day. We authors put a lot of stock on the one day that a book comes out, but Amazon actually started shipping my book last week, so people were getting my book a week in advance to the actual release date. Some bookstores had it out and Amazon did it's own weird thing where it said my release date was March 16th but it wasn't. It's sort of been more of a slow role-out then one release day. 
Release day itself though was really fun because I had a little Twitter game that I started where I had everyone tweet their prizefighter names. I got the other Fifteeners into it and everyone else I know on Twitter wishing me happy release day by tweeting what their prizefighter name would be, and I ended up getting a lot of really fun ones. If you ever check #Zeroboxer. The day mostly consisted of being online most of the day and then going to Powells, seeing my book on the shelf, taking a picture and then going to dinner with my family. Then today, which is going to be the big final culmination. 
In terms of what I'd known before my whole publishing journey, there's a lot of things, but I think one is that publishing can be really fickle. You don't necessarily know why some books get a ton of press and attention and a huge push and there are some other great books that are kind of quiet and off to the side. I was recently at ALA Midwinter Conference, and a lot of publishers pick a few big titles that get a ton of press, and you don't really get to hear about all the other books that are coming out. So, something I wish I'd known a little bit more about was how that worked and how much of your own sweat and blood you put into marketing the book once it's sold. 
Every author's journey is incredibly different. Some people sell a book right away, but then it gets delayed and it takes a long time for the book to come out. Some people sell five or six books and the first one becomes really big, some people write a book every four years, some people write a book every 6 months, and every author has an incredibly different journey. You just have to do your own thing, and that's something I wish I'd known as well. 
What Harry Potter houses would your main characters be a part of? 
My main character, Carr Lukas, would maybe be in Gryffindor, but probably in Slytherin. He has ambition, and he's loyal to those around him, but he definitely has that ambition. Then I think my secondary character, Risha, would probably be in Ravenclaw. She's just the brains. 
ZEROBOXER has some great twists and turns. Was there anything that happened in it that was surprising to you or unplanned? 
Yes, when I was planning it out I didn't see the—no spoilers—but there's a death at the end of the book. It's not one of the major characters but I didn't see that coming. I didn't really have a totally clear idea of how everything would come together at the end when I was envisioning it, but when I started drafting it, things just fell into place. 
Would you say that you're an author that plans a lot, or you lean more to the side of just going for it? 
I'm definitely a planner. I don't usually start writing a book until I have a relatively good idea of what the arc of the story is, and I'll tend to write an outline that's relatively detailed. That's not to say it doesn't change, it does change, but I don't like spending a lot of time churning on writing stuff that isn't going anywhere. I try to think it through before I actually commit. 
In terms of book inspiration and characters, did the character come first or was it the plot? 
The character came first in this case, and it's hard to say exactly because they're also intertwined. Like, sometimes you'll get part of a character and then a bit of the plot. The plot then alters the characters a little bit. They evolve together until it comes together fully. 
If you could watch a zeroboxing match with two boxers or MMA fighters alive today, who would you want to see? 
One of my personal favorites is George St. Pierre, so I would watch him in any fight, including zero gravity. I'd have to say, I wouldn't want them to fight each other, but I'd definitely want to see Ronda Rousey and GSP. I would want to seeManny Pacquiao in zero gravity, but I know he's a boxer so he doesn't lend as well to flying around and stuff. I'd watch Anderson Silva in zero gravity for sure. 
When did you get into boxing? Is there a certain part of it that appeals to you? 
I'm a traditional martial artist; I've done karate and kung-fu most of my life, but I enjoy watching combat sports because I enjoy martial arts in general. I got more into it as a part of writing ZEROBOXER. For research, I ended up watching a lot of UFC and going to local MMA fights here in Portland. It wasn't any one particular thing, but a history of enjoying martial arts. 
When did you get inspired to write ZEROBOXER? 
I got inspired when I was working at Nike, because I used to work in corporate strategy there. I saw firsthand how much money, pressure and emotion goes into celebrity athletes, and I started envisioning this character who wouldn't represent just a team or city but the entire planet of Earth at a time when humans live at places other than Earth. Because combat sports are something I enjoy, I envisioned this character as a prizefighter who becomes a celebrity and comes to inspire a whole planet. That's how it came together, in various little bits and pieces. It came from there, and that's when I started thinking about what kind of futuristic sport might there be, and I thought, well I like combat sports. Combat sports in <em>space</em>! With zero gravity! What would that be like? It snowballed, and I really got into creating zeroboxing and writing about it. 
Have you always liked writing, or is it something that you got into? 
I always liked writing. I've been writing since I was really little, and I wanted to write a book but I always just thought it was a pipe dream to write a book. My parents told me to get a real job and graduate with something where you can make a living. So I did all that, and at some point I was like okay, this isn't going to happen on it's own. I'm going to have to really put work into it, and it was still a dream of mine to be a published author. That's when I really started taking it seriously, after I'd had a decade-long normal career. Now, I kind of wish I'd gotten started earlier. Now, I've got all these stories and I want to write them all. 
What advice would you give to aspiring authors? 
It's just perseverance. It really is. At some point, you will be good enough, but then it's just eventually breaking in. The trouble with wanting to do this is that you're not alone. There are so many people who want to be authors, but the reality is that not all of them are. 
If you could spend a day with Carr, what you guys do or where would you go? 
I would just watch him. I would just want to watch one of his fights. I think I'd follow him around, job shadow him. i'd follow him to his gym and watch him work out. If it was a fight day, that would be awesome. Although, his favorite food is key lime pie, which I have a fondness for. So, if he took me out for dessert to go get really good key lime pie, that would be awesome too. 
Did you learn anything about yourself or the sports involved with ZEROBOXER while you were researching or writing it? 
One thing I learned is that I really love writing science fiction. I'd always written it, but I think this book really cemented for me that that was the genre that I love and that's going to be what I write. Starting out, I just wrote the ideas that I had but now I've found that I really love writing sci-fi. I like writing sci-fi that's accessible. A lot of people, unfortunately, when I say I write sci-fi, they go, "Oh, I don't really read sci-fi" because they're thinking Heinlein, like really old-school or hard/techy sci-fi. And I say, well, do you like Star Wars? Star Trek? Battlestar Gallactica? And they say that they do, and that's sci-fi. I think though that sci-fi is seen as a not very accessible genre, but I have loved it more than a media, tv, movies standpoint than a literary standpoint, so I love writing sci-fi that I hope will be more accessible to people. 
I think fantasy has come a long way. I think now, it's cool to like fantasy. Everyone likes Game of Thrones. Same thing hasn't totally happened with sci-fi, and I really like the genre, I really like writing the genre and I hope I can write stuff who people who theoretically don't like sci-fi will like. 
---
Thanks so much to Fonda for doing this interview with me, and congratulations on the launch of ZEROBOXER! Keep up with Fonda on her social media to hear about all things ZB, and her upcoming books.
Buy ZEROBOXER
Ξ Amazon.com Ξ Barnes and Noble Ξ IndieBound Ξ Powell's Ξ
Find Fonda
Ξ Twitter Ξ Facebook Ξ Goodreads Ξ Tumblr Ξ
About Fonda Lee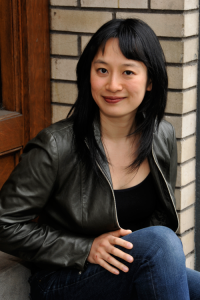 Fonda Lee writes science fiction and fantasy for teens and adults. ZEROBOXER (Flux/Llewellyn, April 2015) is her debut novel.
Enamored with science fiction and fantasy from an early age, Fonda wrote her first novel, about a dragon on a quest for a magic pendant, in fifth grade during the long bus ride to and from school each day. Many years later, she cast her high school classmates as characters in her second novel, a pulpy superhero saga co-written with a friend by passing a graphing calculator back and forth during biology class. Fortunately, both of these experiments are lost to the world forever.
Fonda is a long-time, avid martial artist in karate and kung fu. She goes mad for smart action movies (think The Matrix, Inception, and Minority Report). She loves a good eggs benedict. A corporate strategist by training, Fonda has advised or worked for a number of Fortune 500 firms (including a certain global sports company). ZEROBOXER is inspired by all of these things, except the eggs benedict.
Born and raised in Calgary, Canada, Fonda has lived in Toronto, the San Francisco Bay Area, and Portland, Oregon—the city she and her family now call home.