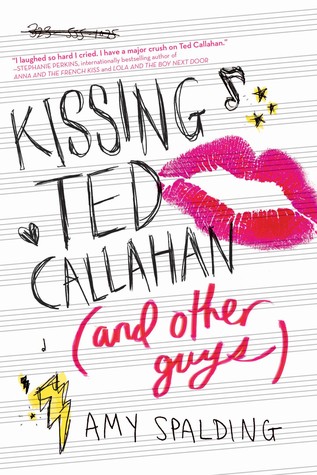 Nick and Norah's Infinite Playlist meets Easy A in this hilariously realistic story of sneaking out, making out, and playing in a band.

After catching their bandmates in a compromising position, sixteen-year-old Los Angelenos Riley and Reid become painfully aware of the romance missing from their own lives. And so a pact is formed: they'll both try to make something happen with their respective crushes and document the experiences in a shared notebook.

While Reid struggles with the moral dilemma of adopting a dog to win over someone's heart, Riley tries to make progress with Ted Callahan, who she's been obsessed with forever-His floppy hair! His undeniable intelligence! But suddenly cute guys are popping up everywhere. How did she never notice them before?! With their love lives going from 0 to 60 in the blink of an eye, Riley and Reid realize the results of their pact may be more than they bargained for.
Description taken from Goodreads. I received an advance copy of this book, released April 7th, 2015, via the publisher in exchange for an honest review. These opinions are my own.
---
There's a checklist of things you have to be okay with in order for me to want to recommend this book to you, and exactly none of the items on the list below worked for me.
I would recommend this book if:
You don't care about the plot of the story being incredibly real-life. Basically 99% of the things that happen in this story would go under the trivial column in my list of things to care about. I couldn't make myself care about the characters, much less what happened to them–especially when nothing really did happen to them.
You're okay with people who have no filter. Riley is, at all points in this story, suffers from chronic I-have-nothing-to-say-but-I'll-talk-anyway syndrome. She says whatever is on her mind, except the small detail on dates that she's already dating someone else.
You're okay with people who are incredibly sensitive, to the point of being downright neurotic. Yeah, the other shining star in this story was Reid. Reid just loves to care. About everything. Nothing is okay for him. He can never just let it go. He needs a few lessons from Elsa.
You're okay with people who think adultery is okay. I guess from the title and blurb of the story that I should've had some sort of idea what Riley would be like, but no. I thought this book would be completely different. Riley isn't a good girl who delves into the more, shall we say, adventurous parts of life because of grief. Firstly, even if it was because of grief, it wouldn't be acceptable. Secondly, she does it because she thinks it'll be fun and she likes the idea of kissing lots of cute guys.
You love seeing people fall apart at every moment because of little blips in life we all learned to handle in pre-school.
I get that some people are all about that "people shouldn't be controlled in their love lives and shouldn't be judged about it" kind of mentality, but Riley ends up really hurting people by what she does–and Reid just gets himself into pathetic situations in search of love. Most of the time, I pitied Reid and I hated Riley.
I liked the very beginning of this story, and I wished that I had liked it more at the end–but it didn't work. I think that if Riley had changed in the end, KISSING TED CALLAHAN (AND OTHER GUYS) would have been better for me, but she doesn't change almost at all, and there's not much to be said for Reid. Instead, I would recommend Miranda Kenneally's STEALING PARKER or Paula Stokes's THE ART OF LAINEY. 1 star.
pg count for the hardback: 320