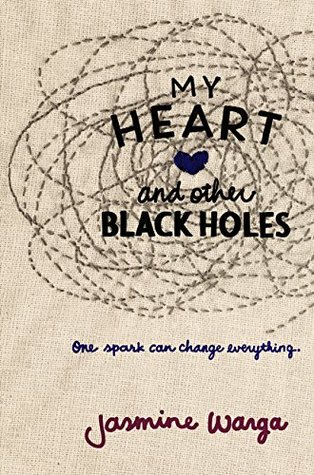 Sixteen-year-old physics nerd Aysel is obsessed with plotting her own death. With a mother who can barely look at her without wincing, classmates who whisper behind her back, and a father whose violent crime rocked her small town, Aysel is ready to turn her potential energy into nothingness.

There's only one problem: she's not sure she has the courage to do it alone. But once she discovers a website with a section called Suicide Partners, Aysel's convinced she's found her solution: a teen boy with the username FrozenRobot (aka Roman) who's haunted by a family tragedy is looking for a partner.

Even though Aysel and Roman have nothing in common, they slowly start to fill in each other's broken lives. But as their suicide pact becomes more concrete, Aysel begins to question whether she really wants to go through with it. Ultimately, she must choose between wanting to die or trying to convince Roman to live so they can discover the potential of their energy together. Except that Roman may not be so easy to convince.
Description taken from Goodreads.
---
There are so many beautiful quotes in this story that really made me think about life, death and the nature of suicide itself except… it takes forever to get to the meaty stuff.
I think what made this book ruined this book for me at many aspects of it was the pacing. So many times, I wished that Aysel would just continue with the story instead of staying on the same point or delving off onto this huge tangent about something almost completely irrelevant. There were a lot of things I loved about Aysel. I thought that she was a great character. She was real to me throughout most of the book. Through the times that she wasn't, I was focusing on Roman.
Roman really was the highlight of MY HEART AND OTHER BLACK HOLES for me. I didn't always love the romance between Aysel and Roman, but the way that she comes to love him and they choose to live because of the healing they find in one another really stood out to me.
I also really enjoyed the premise of this story. I felt like it was very unique from other suicide stories not only because of the premise but also because of the more-positive-than-bittersweet ending. I got everything I wanted from this book plot wise and feel wise. I got to fall in love with the characters besides Aysel and Roman, and I got to laugh and cry at every beautiful, heart-wrenching moment of the story.
Overall, I would say that I wanted more. I wasn't exactly on the same wavelength as Aysel sometimes and I felt completely off with the pacing and set of MY HEART AND OTHER BLACK HOLES. I would recommend this to people who are experienced with contemporary or are skilled skimmers, as well as fans of books like Jay Asher's THIRTEEN REASONS WHY or Jennifer Niven's ALL THE BRIGHT PLACES. I would also recommend those books to fans of this book. Regardless, I still loved this story and will definitely be rereading it. 3.5 stars.
pg count for the hardback: 302