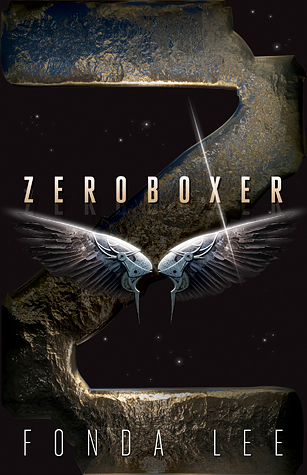 A Sci-Fi Thrill Ride Set in the Action-Packed Sports Arena of the Future

A rising star in the weightless combat sport of zeroboxing, Carr "the Raptor" Luka dreams of winning the championship title. Recognizing his talent, the Zero Gravity Fighting Association assigns Risha, an ambitious and beautiful Martian colonist, to be his brandhelm––a personal marketing strategist. It isn't long before she's made Carr into a popular celebrity and stolen his heart along the way.

As his fame grows, Carr becomes an inspirational hero on Earth, a once-great planet that's fallen into the shadow of its more prosperous colonies. But when Carr discovers a far-reaching criminal scheme, he becomes the keeper of a devastating secret. Not only will his choices place everything he cares about in jeopardy, but they may also spill the violence from the sports arena into the solar system.
Description taken from Goodreads.
---
I expected a lot from ZEROBOXER, with the hype that it was incredibly well-written and a sci-fi like no other, but it still managed to send me flying through the Cube, and in so many more ways than one.
I think that the best thing about ZEROBOXER for me was the world-building and Carr. I loved the way he built his life up, his determination, the people around him. I loved DK, Blake, Adri, even the Martian. And when I say the Martian, I mean the Martian. I don't mean Risha, because Risha was actually the low point to ZEROBOXER for me.
In the beginning, I thought every character would work out. I came to love the ambition that drives Carr, his will to succeed. I really liked the add-in of Enzo's character, even if I felt like he wasn't always necessary at times. and I really thought Carr's team was unbeatable. Risha came along, and that was great.
For awhile.
The one thing I would tell people to keep in mind when I recommend this story is not that it's sci-fi, because I feel like this book could make non-sci-fi lovers believers in sci-fi, but because it edges towards the fringes of new-adult when it comes to the romance. There are some.. ah.. intense scenes in ZEROBOXER. Nothing that wouldn't be in a PG-13 movie, but I feel like it straddles the line a little bit.
That wasn't the only reason I didn't like Risha. For another thing, I thought Carr fell in love with Risha way too quickly, almost to the point of instalove. It didn't bother me as much as usual instalove, but it was definitely still there. I wanted their relationship to take more time, to be more. I also didn't like the way that Risha treated her and Carr's relationship. I get that parts of it are just her personality and the way she was raised, but she oversteps a lot of boundaries as they get more comfortable, and I didn't think it was right.
Then there's Risha herself. I guess I just wasn't a huge fan of her personality or the dynamic that she and Carr had.
However, aside from that, this was a throughly satisfying book. I was in love with the way that the world was described and I got to see this image of zeroboxing in my head. This book isn't all action and no plot though, there's plenty of plot, and with it–plot twists. There was a good handful of things I didn't see coming in this story, and there were a lot of moments where this book felt so painfully realistic even though it's set in the future that I wanted to reach into the story and just be with the characters.
Overall, I loved this story–and it's one I will be recommending. It is traditional sci-fi in many ways, but it's not deep sci-fi, and it's easily readable for someone who doesn't read sci-fi. The ending was a little bittersweet for me, and I still don't know how to feel about it, but when everything comes down to it this is a truly entertaining, great read. 3.8 stars.
pg count for the paperback: 351