Sorry I haven't been posting these last few days! Things have been crazy busy between studying, blogging and writing, and I've decided to take a hiatus until my AP tests are over. I'll be back to a regular posting schedule on May 15th but until then, I've decided to host a giveaway! I recently had the chance to read AN EMBER IN THE ASHES by Sabaa Tahir and I ended up really liking it, so I'm giving away a signed hardback copy! Enter in the Rafflecopter below, and I hope you enjoy my review. :D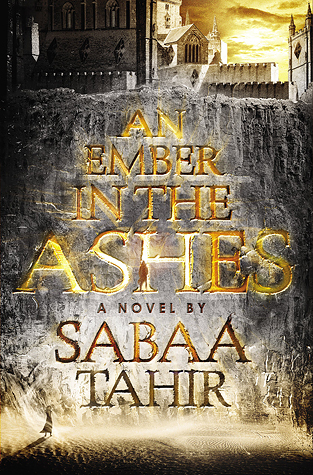 Title: An Ember in the Ashes

Author: Sabaa Tahir

Rating: 4.3 stars

Genre: YA

pg count for the hardback: 443

AN EMBER IN THE ASHES is a thought-provoking, heart-wrenching and pulse-pounding read. Set in a rich, high-fantasy world with echoes of ancient Rome, it tells the story of a slave fighting for her family and a young soldier fighting for his freedom.

Laia is a slave. Elias is a soldier. Neither is free.

Under the Martial Empire, defiance is met with death. Those who do not vow their blood and bodies to the Emperor risk the execution of their loved ones and the destruction of all they hold dear.

It is in this brutal world, inspired by ancient Rome, that Laia lives with her grandparents and older brother. The family ekes out an existence in the Empire's impoverished backstreets. They do not challenge the Empire. They've seen what happens to those who do.

But when Laia's brother is arrested for treason, Laia is forced to make a decision. In exchange for help from rebels who promise to rescue her brother, she will risk her life to spy for them from within the Empire's greatest military academy.

There, Laia meets Elias, the school's finest soldier—and secretly, its most unwilling. Elias wants only to be free of the tyranny he's being trained to enforce. He and Laia will soon realize that their destinies are intertwined—and that their choices will change the fate of the Empire itself.
Description taken from Goodreads.
---
Purely from my perception of things, it seemed like AN EMBER IN THE ASHES was one of the blogosphere's most anticipated reads, and it was one of mine too. Honestly, while I was reading, it didn't disappoint–for the most part. 99% of the things I found wrong with this book I found after I finished reading it.
The one thing that stuck out for me while I was reading was the romance.
The romance was the one almost inexcusable thing that stood out for me in the wrong way in AN EMBER IN THE ASHES. People have said that it takes awhile to get going, but that's not because it's a slow burn. It's because the couples don't really get to actually see each other, thus making it impossible for them to love in any way, but once they see each other it's instalove all the way. 
There was one couple, I'll admit, that didn't instalove, but that was because they were "already in love". If you're someone who has ever watched the Japanese anime Inuyasha, you know that it's somewhat incredibly irritating that Inuyasha always pines after one woman when you can plainly see he's in love with the other as well. I have a feeling this book is going this way, for both Elias and Laia, but I really, really hope it's not.
Other than the romance, this book was pretty amazing, to be honest.
There's beautiful writing and some straightup QUOTABLE type of quotes. I loved the plot and every single character. Everyone is well-rounded, and individually they are awesome. I loved getting to know their strengths and weaknesses, which were both made very clear by the type of world that Laia and Elias live in.
There's truly so much to love about each character, especially the main POV–Laia. Laia is not truly, inherently brave. It's a small part of her, and she isn't meant to live a life of daring and mystery and woe and madness, but she decides to live that life because of her brother, so I guess she is brave–in her own way, brave because of other people. I respect that, and I was so glad to see another character along the lines of Kestrel in The Winner's Curse by Marie Rutkoski, who isn't a hero the likes of which we see in Throne of Glass or The Hunger Games, but still a hero all the same.
Each of the characters, especially Laia, Keenan, Elias and Helena really drew my attention. They enhance the plot and enrich it, bringing all of it to life. I can't wait to see more of them in the next book and learn more about them. :3
Let's move on to plot and world-building, the two true, undebatable highlights of this book for me. I loved learning about the world that Laia and Elias live in, and the sheer brutality of it all. The trials to become Emperor were really intricate and engrossing, and all-consuming. I couldn't just stop reading this book right in the middle of a trial, I needed to know it all. Tahir expertly shows all the humanness and vulnerabilities and strengths of her characters through these intense moments, and every second of it was addicting.
The plot's a great one, and I never knew quite for certain what things would end up being like. This story didn't end at all the way I thought it would, and I hope the second one is just as good and unpredictable. I would say that certain parts, especially the beginning, of AN EMBER IN THE ASHES are slow in pace due to Tahir having to set up so much of the world, but it does get a lot faster around the early middle. All in all, an awesome fantasy read and a great start to a series. Really looking forward to more, 4.3 stars.