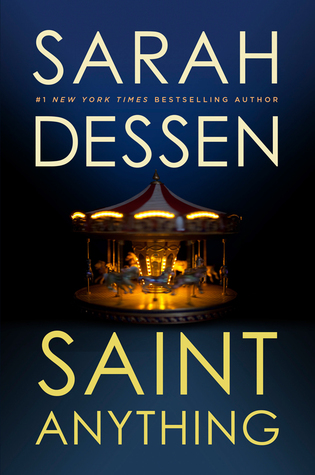 Peyton, Sydney's charismatic older brother, has always been the star of the family, receiving the lion's share of their parents' attention and—lately—concern. When Peyton's increasingly reckless behavior culminates in an accident, a drunk driving conviction, and a jail sentence, Sydney is cast adrift, searching for her place in the family and the world. When everyone else is so worried about Peyton, is she the only one concerned about the victim of the accident?

Enter the Chathams, a warm, chaotic family who run a pizza parlor, play bluegrass on weekends, and pitch in to care for their mother, who has multiple sclerosis. Here Sydney experiences unquestioning acceptance. And here she meets Mac, gentle, watchful, and protective, who makes Sydney feel seen, really seen, for the first time.

The uber-popular Sarah Dessen explores her signature themes of family, self-discovery, and change in her twelfth novel, sure to delight her legions of fans.
Description taken from Goodreads.
---
Hi everyone! I'm back from my hiatus, and I've officially picked the giveaway winner for my AN EMBER IN THE ASHES giveaway! Thank you so much to everyone who entered, commented and supported my hiatus and stay tuned for more giveaways, reviews and features soon to come ;). The winner has been emailed, but it's Andrew! (Hoping this is Andrew from Endlessly Reading 99) but even if not, congrats Andrew and thanks for stopping by TSW!
Now on to other bookish things, I haven't always been the biggest fan of Sarah Dessen's novels, and in fact I wasn't into contemporary fiction for a long time, but my attention has really been captured by SAINT ANYTHING, even through this preview look at the book.
First of all, the major selling point of this book for me is the grittiness that is said to be in here. I know I shouldn't be listening to the hype, but it's Dessen, writing gritty fiction. I never thought those words would come together in a sentence, but they have, and for that reason this book really sticks out to me.
Already, I'm interested to see where Dessen will take this story, and I love the way she's up the book. I know it's going to be a deep story, and I am completely ready to be bombarded by feels. A lot of my review will depend on how the characters grow throughout this story, but right now I'm liking them. They each have their own flaws, Dessen does a good job of making that clear, but there's moments of brightness to this book as well.
Overall, I've really enjoyed the way Dessen has set this story up, and it's a storytelling method that I can definitely identify with as a writer, which makes it yet more interesting. I would recommend it for any gritty fiction fan to try, as well as any reader like me who always hoped Dessen would venture out this way. The preview length was great and left me wanting more. 4 stars.
pg count for the hardback: 432