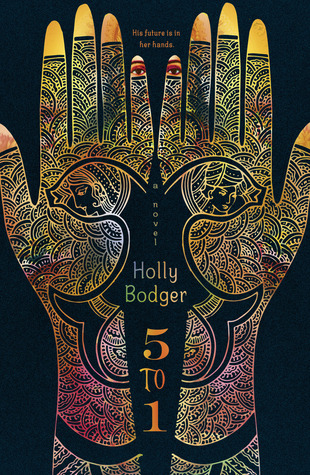 In the year 2054, after decades of gender selection, India now has a ratio of five boys for every girl, making women an incredibly valuable commodity. Tired of marrying off their daughters to the highest bidder and determined to finally make marriage fair, the women who form the country of Koyanagar have instituted a series of tests so that every boy has the chance to win a wife.

Sudasa, though, doesn't want to be a wife, and Kiran, a boy forced to compete in the test to become her husband, has other plans as well. As the tests advance, Sudasa and Kiran thwart each other at every turn until they slowly realize that they just might want the same thing.

This beautiful, unique novel is told from alternating points of view-Sudasa's in verse and Kiran's in prose-allowing readers to experience both characters' pain and their brave struggle for hope.
Description taken from Goodreads. I received this book, released May 12th, 2015, via the publisher in exchange for an honest review. These opinions are my own.
---
Maternal mortality rate, dowry deaths, female infanticide and more are issues that are currently going on in India as you are reading this review and as I am writing it, this is the power behind this book. If you don't understand that, you should read this book. If you do understand that, you should read this book.
Overall, if you ignore the fact that this book is based on a very, very flimsy backstory and you focus on the here and now of where the book is placed, you can learn a lot from this book. It shows a world where gender is a completely different thing than what we see today, and what has become of all of that. 5 to 1 was an incredibly interesting story for me to read, because it shows such an unheard of setting in children's lit, but especially YA. I loved to see the world, every aspect of it that I could soak in, from both Sudasa and Kiran's side.
What makes this story even more powerful is the complete, utter lack of romance. I was shocked by this when I found out just because I didn't know about it before, and many YA books don't dare to go down that path–but I thought it was incredibly fitting and perfect for this story.
I won't say my expectations fell through in 5 to 1. The world-building was far from perfect, and I didn't get to see nearly as much of India as I wanted to. All of it, not just a single aspect of it. However, what I did get to see, I really enjoyed. Sure, the ending was… anticlimactic, to say the least. Characters were, individually, amazing, and together, Kiran and Sudasa managed to tell a story in a way I didn't think it could be told.
Yes, I wanted more history, less drama, a stronger base, but I did enjoy this book, and it opened up my eyes in a way that any history class just can't, no matter what. There were lots of quotable moments and ideas and overall, this has been a memorable debut from Holly Bodger. It was entertaining to read it and, while I wish there had just been more, I really enjoyed this quick read. 3 stars.
pg count for the hardback: 224