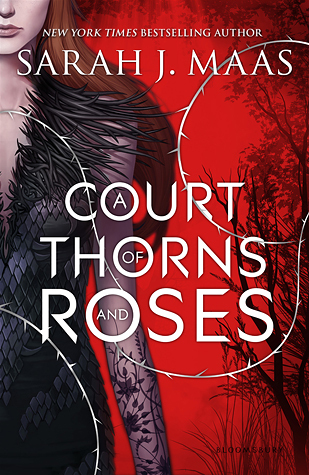 A thrilling, seductive new series from New York Times bestselling author Sarah J. Maas, blending Beauty and the Beast with faerie lore.

When nineteen-year-old huntress Feyre kills a wolf in the woods, a beast-like creature arrives to demand retribution for it. Dragged to a treacherous magical land she only knows about from legends, Feyre discovers that her captor is not an animal, but Tamlin—one of the lethal, immortal faeries who once ruled their world.

As she dwells on his estate, her feelings for Tamlin transform from icy hostility into a fiery passion that burns through every lie and warning she's been told about the beautiful, dangerous world of the Fae. But an ancient, wicked shadow grows over the faerie lands, and Feyre must find a way to stop it . . . or doom Tamlin—and his world—forever.

Perfect for fans of Kristin Cashore and George R. R. Martin, this first book in a sexy and action-packed new series is impossible to put down!
Description taken from Goodreads.
---
Three words: Massive. Book. Hangover.
Be prepared for it.
I'll admit, I wasn't the biggest fan of HEIR OF FIRE. For me, the excitement about the series was there, but I just didn't connect with it the way I did with THRONE OF GLASS. I figured my taste was changing, or the series was going in a direction I wasn't really interested in.
I was wrong about Sarah J. Maas. My tastes aren't changing, and it looks like her fantasy (this borders on paranormal) is what I'll be reading for awhile yet. There was so much that I loved about this book, and I'm beginning to regret that I read this book right after release because now I have to wait a year for the next one! *quietly sobs*
Okay, so I guess it's not so quiet
Or really, quiet at all.
I NEED MORE ACOTAR IN MY LIFE.
What really brought this book to life for me was the world-building and the characters. After reading Julie Kagawa's THE IRON FEY series (one of my favorite series, favorite fantasies and favorite fae books), I went on this fae rampage trying to find another book that would feed my book hangover.
I NEEDED ACOTAR 2 YEARS AGO. ;-;
ACOTAR hasn't replaced the IRON FEY, but it does come very close. I love the both of them. There's great descriptions of everything, lovable (and hatable) characters and everything in between.
My favorite in ACOTAR was a supporting character fae named Lucien. Lucien is awesome, and he's as well developed as a main character. Lucien is a prime example of why I loved and came to care about the characters in ACOTAR so much. He's not perfect, definitely flawed, but multi-dimensional and funny. He has a sad back story, and he was really someone I wanted to see a lot more of.
I loved Tamlin, Rysand (yes, this is a love triangle), Feyre and the supporting cast to most minor character to the most major one. Really, it's been so long since I loved a supporting character the most (Lucien), and I think it goes to show how much care Maas puts into each and every single one of her characters. They enhance the plot and make it believable, and I loved every second of it.
And the romance.
No. I'm not even going to get started on the romance. (Though I will say that this book definitely isn't for kids 14/15 and younger. This is very much NA lit, fit somehow under the YA umbrella. There are some pretty graphic scenes in this story).
You can read it, and find out for yourself, so here's my advice for you: Believe the hype. Believe it. Do it. And find out how amazing this story is. I NEED THE SECOND ONE.
I know the truth now. Dobby never needed freedom; Dobby needed ACOTAR #2. #sameeedobby 4.5 stars.
** EDIT 2/6/17 ** It's been nearly two years since ACOTAR released, and I still haven't read ACOMAF yet. That's a personal, intentional decision, and I want to make it clear now why I didn't and why I wouldn't recommend this to teens. I'm not about sex in my stories, especially considering the fact that I'm pretty sure Feyre is a teenager (tell me if I'm wrong). I talked about this in my review for 738 Days as well. I stopped reviewing New Adult lit on the blog years ago, and I went into 738 Days, Nevernight, and ACOTAR not knowing that they were NA. As much as I love these authors and many aspects of these books, I can't and won't recommend them to teens in good conscience. I still have the utmost respect for these authors. I think they write amazing stories, but they're not for me. My reviews for them still stand, but I wanted to add this note to reflect my thoughts since first reading ACOTAR.
pg count for the hardback: 416
Series: A Court of Thorns and Roses #1